Q&A: This Amazon Entrepreneur Started A $1.2M Dropshipping Store. Here's How He Did It (And How You Can, Too)
The pandemic's been tough on everyone, crippling economies and leaving the world in disarray. However. It's also forced mass pivots, mass adaptation, leading to more mass opportunity. 
One of the ones who's actually been able to keep his business afloat is Andrew Loucks—AKA the Manimal (what an epic name, just for the record)—who runs a seven-figure dropshipping store on Amazon.
Obviously, as people stayed in the house, online shopping (i.e. Amazon!) has gone up. In fact, Amazon recently became the first company to be valued at over $2 trillion dollars.
Yes, we know what you're thinking…
Amazon dropshipping is one of those scammy get-rich-quick setups those YouTube hucksters peddle in their ads, doing little else but syphon cash from eager wantrepreneurs.

In reality, however (and you know we don't interview pretenders 'round these here parts!), there's always a reality from which these dreamy plots are concocted.  
And one of the real ones is the Manimal who legitimately teaches people how to dropship on Amazon. He also is a bodybuilding BEAST and has a super strong Instagram following.
So we had a chat with him about how to get that set up.

To people who don't know you, what do you do and what are your biggest accomplishments?

I am a seven-figure Amazon seller in the e-commerce business. I started my own Amazon Dropshipping business a year and a half ago and have done over $1.2M sales on my seller account. My store does over $150k sales per month. Now, I mentor and teach other people how to set up their own six or seven-figure Amazon dropshipping stores.

This pandemic has seen lots of chaos in the public markets. Did you invest during the pandemic—and if so, where?
I have been consistently investing into getting more funding for my Amazon store, the stock market, and researching real estate to reinvest some of my profit from Amazon dropshipping.
How has it affected business? Tell us a bit about Manimal and MegaFit Meals!

The great things about selling on Amazon is that it's a market that will continue to get sales no matter what the economic conditions are. When the pandemic hit, I wasn't worried about keeping my job, or worrying about getting a paycheck to pay the bills. I had my Amazon store running 24/7 getting sales, and direct deposits coming in every two weeks. 
Love that. Passive income all day.
Exactly. My profit margins and store sales actually increased during the pandemic. People were ordering even more products online that usual! 
People are shopping from home. Unlike physical retail where people have to manage a store, I assume it's easier to run a digital store?
One of the biggest benefits about my Amazon store is that it doesn't require any of my time to run or manage. I have it automated, which means everything is managed for me. 
Explain. 
A team handles all the product research, listings, shipping, returns and even the customer service. I did months of research before getting into the business, which gave me the knowledge to not only set up my own store, but to help others set up their own as well. 
How does it work this dropshipping thing?
Throughout the past year and a half in the e-commerce business, I have gained a lot of experience. Mostly through trial and error, but also through my own successes and failures. I am continuing to learn more every day as I'm helping new sellers get started with stores of their own. Just shoot me a message on Instagram and I will show you how my store works, what profit margins to expect, and what you'll need to get started with your own.
There are tons of parallel correlations between health and wealth, especially from a discipline standpoint. Do you find your athletic background gives you an advantage in life, business and so on?
Health is wealth! But yes, absolutely. Being healthy and having a routine will teach you how to develop the dedication and drive you'll need to become successful with anything. Taking care of your body is just as important as taking care of your mind. Keeping both sharp will take you far in life. Having the discipline to stick to a workout and meal routine for months or even years, has given me the dedicated mindset that I have today. 
I always say that pro sports, fitness and military are the best preparers for business success. Just because of the commitment and discipline both require.
If you are willing to put in the time to build and change your body's appearance, then you can do anything. Fitness has given me a platform on social media to share my business ventures with others. Not only am I able to share my workout routines, meal prepping, and other fitness tips, but I'm also able to help others make a living and start their own businesses.  
Switching gears slightly to fitness. What are some basic pointers you give people that come to you asking how to get in shape?
Make sure to get your nutrition right. That's the most important factor with any fitness training program. Depending on your goals, your training and diet will vary. Lift heavy, train often, and get your protein in.

We now live in a digital world, increasingly virtual, especially because of the pandemic. Do you use social media assets professionally?

Yes, I use my Instagram and Facebook pages. Mainly my Instagram, which is where I post most of my fitness and business-related content.

What's next for your industry? Will we return to normal or has that ship sailed?

I keep hearing phrases like "the new normal", but honestly it's hard to tell where the economy will go from here. However, in my industry, I'm not worried. The good news about investing into the Amazon dropshipping business model is that it's continuing to grow. That's one of the main reasons why I invested in this business and recommend it to others. 
Love that. I think now more than ever it's important to have recession-proof business models.
Right. Even if the economy continues to stay on the same path it has been on for the past five months, that has only increased my store's sales and profit margins for my business. I'm all for reopening society and all the businesses. But when we're talking about investing money, I know I would rather invest into a business model that will succeed in all economic conditions, even during a global pandemic. 
I'm a real estate guy. Residential is cool but office, hospitality and retail asset classes are suffering. And you're gonna see a bloodbath here that won't end anytime soon.
Unlike traditional retail with bricks and mortar stores, e-commerce businesses aren't confined to walk-in person traffic. People are always buying things on Amazon, regardless of what's going on in the world. This business has been one of the best investments I have made so far.
EXCLUSIVE Q&A: This 26-Year Old Made $100K From Her IG In 90 Days. Here's How She Did It 👀
Yes, it's a pandemic. Yes, the economy is down. Yet, some entrepreneurs have found opportunity in the "new normal" (whatever that means). 
In the public markets, FAANGs are booming: Amazon and Netflix are up dramatically, fueled by the need for home entertainment…and shopping.
One of them is Ariel Adams, a 26-year-old South Virginia-based realtor. In April, at the height of the lockdown, she had exactly 1000 followers on Instagram. 
Fast forward to today, she's attracted over 100K followers, has made $100K in online sales (again, during the pandemic), and is now showing others how to do the same.
We sat down with Ariel to discuss how she made $100K in 90 days, what she sold, how she got her first customer, and how you can, too.
Let's get right to it. You work in real estate but were able to make $100,000 from your IG in three months. Let's start with the product. What did you sell?
Yes, that's correct. I was shocked myself! My sales came from my digital products, mainly my e-book From Instagram to Instant Money. My e-book dives into how you can optimize your Instagram profile to grow a following and sell your own product. I talk to the Instagram algorithm and how to beat it to ultimately monetize the platform. My other digital product is my course How to $ave Like the Wealthy. As a realtor, I would receive a lot of questions in regards to saving up for a down payment on a home. I decided to create a video outlining the best way to save money and accumulate wealth. Both of those products got me to six figures!
How did you secure your first orders? Who were your buyers?
My sales came from my following. I would collaborate with other brands with significant followings and post my product on their page. This drew in a lot of traffic to my products and also pushed me to 100k followers on Instagram. My buyers were typically people looking to earn passive income by selling a product or service through Instagram.
Was the objective of your advertising to gain followers and sell later? Or did that just happen as a byproduct of people buying your courses?
I never was trying to gain followers, I was always trying to sell. I think people would see my ad, go to my page, and then turn into a follower because I always provide valuable content on my page. My Instagram consists of personal finance infographics, real estate tips, and inspirational quotes. I think people naturally gravitated toward that and I was able to retain and gain followers.
How do you consistently market it? Is this a model anyone can use?
I try to set up placements on these bigger Instagram pages 2-3 times a week. I aim for business pages, women-owned business pages, and black business pages. My product resonates well with entrepreneurs looking to scale their business through IG. It is absolutely a model anyone can use. I recommend following the other steps I speak to in my e-book. This will ensure the most success.
Most aren't aware that partnerships can literally boost your business. How did you come up with the idea of collaboration and what made you target those pages exactly?
Being savvy to Instagram, I was always aware of Influencer Marketing. A lot of people think that's just girls posting brands to their million or so followers, but it includes placements with ANY brand that has a substantial following. I knew this was a key to success. Collaboration on bigger platforms would be the most helpful for my brand. I targeted people I thought would be interested in my product; women CEOs, entrepreneurs, e-commerce enthusiasts, etc. I made sure to stay within that niche.
How did you come up with this idea?
I was inspired by other online entrepreneurs. I saw them making thousands online and I thought to myself, "Hey, I can do that." So I decided to do it. I asked myself, "What am I skilled in? What can I teach people?" From my previous life managing artists in the music industry, I became an expert in Instagram. Combining what I studied at the University of Miami (Business) and my knowledge of Instagram, that's what sparked my e-book on the subject.
What's the number one advice you'd give someone who's looking to make money for themselves but isn't sure where to start?
My advice would be to write down what it is you're good at. Brainstorm what skills you have. Maybe you have a passion for food? Good, create and sell a cookbook. Maybe you're good at writing? You can become a freelance resume writer. We all have skills we can capitalize on. And if you need to learn how to market yourself, then Google is your best friend. Read, read, read. Self-educate and you will be on your way, and of course download my e-book to learn how to sell through Instagram!
EXCLUSIVE Q&A: This 26-Year-Old Got 1M Instagram Followers In 1 Year. Here's How He Did It (And How You Can, Too)
The rise of social media—the internet, really—has created more young entrepreneurs, business rockstars and self-made millionaire than ever before.
Still, one of the most coveted goals for business people is to learn how to crush it on Instagram. David Dang, a young internet entrepreneur, figured out how to do just that.
As owner and founder of @entrepreneurshipfacts, David has managed to create one of the best, fastest-growing channels on IG, pumping out daily motivational content to 1.3M followers. (At the time of this interview, he had recently cleared 1M.)
In just one year, he grew it from 100K to 1M, drawing attention from mega influencers Tony Robbins and Dean Dean Graziosi in the process. Yes, really.
Because we love to bring you the best of the best, we decided to ask David exactly how he managed to grow it like that, what tactics he used and how you (yes, you) can do it, too.
What's up, Dave!

Hey, Phil.
Let's get right to it. You've managed to build a channel with tremendous growth and engagement. What made you start your @entrepreneurshipfacts and how did you grow it?
What started out as an Instagram page for my own personal growth, where I share my favorite inspirational quotes on business and entrepreneurship, and life, in general, really.
I've always knew that a corporate 9-to-5 is not my thing. Started my first little business when I was nine, I was quite an entrepreneurial kid.
Besides unlimited income potential, I love the freedom of being my own boss… I get to work where I want, whenever I want, without anyone telling me what to do or when I can take days off.
There's nothing like it.
To me, this kind of freedom is priceless.
What triggered it for you?
I fell in love with personal development in my teenage years, and happened to read a couple self-help books from Dale Carnegie, Napoleon Hill, Tony Robbins, Robert Kiyosaki, etc. They completely changed my life.
I think that's a common thing in hustlers. You just broke down the holy grail right there.
Yes. If you read any book from the authors I've just mentioned, you will realize a common theme that MINDSET is everything. It is literally the foundation to success, not how much resources you have or who you know.
I truly believe the life you've always wanted begins with your mindset. Despite having a university degree in Entrepreneurship & Marketing, I am now making a living with my online businesses, and also dabbling in investing.
What's your goal with your page?
Although I don't consider myself as being successful or an expert yet to tell people how or what to think, but my goal with this page is to hopefully inspire and influence people's mindset in a positive way. In turn, helping them achieve whatever goals they have in life.
You have over 1M followers. People are loving your content. And everyone wants to know: How?! How do you grow an account like this?
I am proud to say that I've never used any shady tactics or bots to grow my IG account. Everything is 100% organic growth. Besides that, you also need high quality content that people want to see.
Like any social platform, you must understand the platform algorithm and work with it. That's my biggest secret…
In part II of this article, Dave breaks down exactly HOW he selects his content and the secret sauce behind the engagement.
This Guy Co-Built A $4B Company In Four Years - And He Only Works 7 Hours A Day
Cal Henderson is pretty badass.
As co-founder and Chief Technical Officer of Slack — arguably the single most crucial role in any startup — Henderson has helped build a product from zero users to four million daily in just over three years.
About a year ago (cue Shmoney Dance!), Slack announced they'd raised $200 million in its fourth round of venture capital, putting the software at a WHOPPING $3.8B valuation.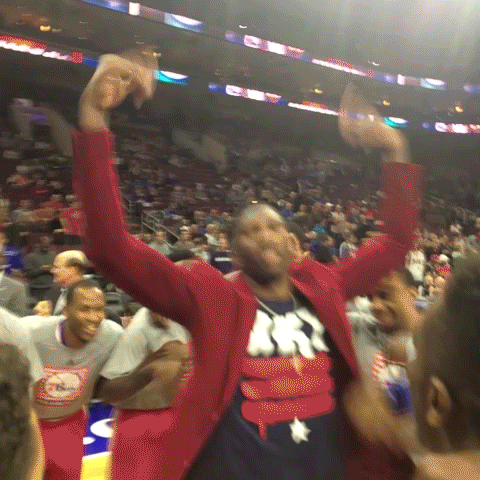 And unlike many all-time greats on #TeamNoSleep (think Leo DaVinci, Thomas Edison and Vince McMahon) — and the modern ones who call for 95-hour work weeks — this dude actually puts his Z's atop his to-do list.
In this Inc.com piece, check out how Big Cal — at 36 — gets down on the time-management end that allows him to work less than a part-time management consultant.
You've reached your free article limit.
Continue reading by subscribing.
Already a subsciber? Login >
Go back to Homepage >