Alternative Financing And Why Equity Financing Has Lost Its Luste
When a startup founder is ready to transform their idea into a viable business, they almost always look to equity financing–whether that's in the form of checks from friends and family, an angel syndicate, or in rare cases, a early stage Venture Capital fund. This thought process is justified. In the embryonic stage of the startup lifecycle, exchanging equity for capital is often the only legitimate option to amass enough cash reserves to build an initial team, create an MVP, and hit the market, as debt investors will want security over non-existent assets and personal loans/credit cards can quickly become dangerous liabilities. Equity financing is also a proven (and expected) option for creating runway and providing growth capital for business expansion through a potential IPO or acquisition.
However, equity financing has its weaknesses–dilution of ownership stake, relinquishing board seats and autonomy of decision making, and irrational growth expectations, amongst others–and make raising a follow-on, or even first-time round less appealing to entrepreneurs who have creatively bootstrapped their way to post-revenue status. Every founder feels protective over their startup baby, and the thought of having a "growth at all costs" investor take over the helm is irksome. Removing the vagaries and potential biases of founders' opinions, it's an industry truism that only a fraction of startups looking to attain equity funding will ever achieve that goal.
Just this month, well known venture industry and NYT reporter Erin Griffith published an excellent op-ed analyzing the growing founder malaise towards traditional VC fundraising and the potential pitfalls of taking on equity financing when it's not the appropriate long-term option. In the piece, venture capitalist Josh Koppelman of First Round Capital candidly remarks, "I sell jet fuel, and some people don't want to build a jet." Everyone knows what happens when you put potent jet fuel in a slow but steady single-engine prop plane—it stalls out and explodes.
Fortunately, alternatives have emerged to dislodge the binary outcome of either banking VC jet fuel or sputtering out entirely. This piece will shed light on the other financial options.. These providers have emerged to both complement and supplement the old guard of financiers, with most focused on helping post-launch startups meet short- to mid-term cash flow needs—without injecting so much capital as to force their trajectories towards the sun (or seabed). The advent of the cable car did not kill off transportation by horse—it simply served as a flexible alternative to meet local demand. Much like a startup idea, it was edgy, scalable, and pragmatic. Alternative financing upstarts today provide flexible, non-dilutive financing to entrepreneurs whose capital needs are not met by a time-consuming equity fundraise or difficult-to-obtain and restrictive institutional debt financing.
Breaking down alternative financing options for the startup economy (what's alternative financing, anyways?)
Alternative financing is an umbrella categorization of non-standard financing solutions to supplement plain vanilla equity and institutional debt. For the startup economy, these solutions range from the more traditional: term loans, lines of credit, asset-backed loans, convertible debt, receivables/payables financing to the more creative: hybrid equity funding invoice/SaaS factoring, crowdfunding, microloans, grants/tax credit financing, revenue-share agreements, to the "wild west" of fundraising instruments–crypto/tokens.
Why so many options? If the demand is there, you better believe a savvy capital provider will attempt to manufacture a solution. Plus, the more arcane the structure, the lower the initial competition, and the higher the margins and ability to grab market share. These solutions are not only rising in popularity and easier to obtain, they're also well-suited for the "torso" of the market—companies with varying levels of traction, a proven user acquisition strategy, and a readiness to grease the wheels on the marketing machine.
Flexible Financing to Drive Growth Without Dilution
When it comes to early- to mid-stage startups, some customizable financing instruments have emerged as clear winners in a competitive market where flexibility is the ultimate selling point. In addition to an emphasis on ease of use, the demand for many of these offerings is spiking thanks to quick access to liquidity and an a la carte menu of fee structures to decide between, from interest rates to transaction fees to revenue share agreements.
This is a unique segment of the market, where high growth rates and monthly revenue volume upwards of $500k-$2m remains unattractive to institutional banks offering single-digit APR debt. While $24 million a year in revenue might seem impressive, a revolving line of credit or an AR line on that sum at 8%/yr will gross just $192,000 prior to cost of capital, which could wipe out at least 50% of that margin. Again, low six figure fees might appear attractive to your average "Joey finance," but they're nothing for abank turning billions in volume a year.
In our overextended bull market where cash seems to be omnipresent, here are four of the most prevalent alternative financing categories providing liquidity geared towards growth, without the friction points of traditional debt and equity instruments.
The TRIBE app is LIVE!📱 Here's how it all started…
Last November, our TRIBAL CHIEF posed a simple question.👇
We received dozens of messages and emails from you all expressing interest in joining the collective. 👇
So, we went to work.
Within ten days, we had the first MVP (minimum viable product). So, we returned to you and asked if any of you would be willing to check it out and give us feedback, aka beta test. 👇
That following weekend, we put TRIBE in the hands of a few beta testers. Each user scanned the site, clicked every link, and pinpointed any errors during the meeting.
Armed with the feedback we collected, our team made the necessary updates to the site.
That following Monday, December 21, 2020, we conducted a special edition of our FB Live 10 Questions. We used this episode to soft launch TRIBE just to our Facebook community. In addition, we used that time to conduct a live walkthrough and answered questions we received regarding TRIBE.
After that 10 Questions session, we officially launched TRIBE and opened enrollment. We were expecting a few submissions, but instead, we received hundreds of applications!!!
Each submission allowed us to learn more about you and helped us define ways we can serve you best.  
We ask questions like
What interests you the most?

Have you started a business before?

Have you invested (stocks, bonds, real estate, etc.) before?

And most importantly, why do you want to join our community?
This stage of the journey is called audience development. We learned that 53% of you were entrepreneurs and that over 70% of you were super-focused on learning about investing both in the stock market and real estate.
Best of all, we discovered that 78% of you were willing to commit 5-10 years to learn how to become millionaires. Yay!🙌
Knowing your audience is so important, no matter what business or industry you're in. With this data, we were able to craft virtual experiences that would help you reach your goals. For example, we outlined a calendar of events focused on real estate, stock investing, goal-setting, and entrepreneurship.  
We spent the first few weeks getting to know our founding members through virtual meetings, coaching sessions, and events.
We made a conscientious effort to communicate with members through email constantly. But we needed a better way to stay in touch and share updates. 
With that in mind, our tech team searched for a solution. In the meantime, we created a group chat through WhatsApp.
We used that chat room to share updates and connect with our members.
In February 2021, we began building the TRIBE social network platform. Our goal was to funnel all community events, updates, and networking under one umbrella.
Our team spent hours designing branded creatives like banners, thumbnails and creating content like how-to articles and videos to populate the network.
We shared the upcoming news about the platform with our founding members first and asked them to check out the site and share their feedback. For the first two weeks, the TRIBE social network was exclusively available to them. However, once they gave us their approval to move forward, we opened doors to the entire wealthgang.
The platform went from founding members to thousands 💪! Not to mention 175K+ (followers, TRIBE members, app downloads, etc.) across the entire NYCE ecosystem. It feels like it all happened overnight. 🔥🔥🔥
As more members joined TRIBE, we conducted more virtual experiences. In addition, we ensured that all events were recorded in case some members were unable to attend; we could share the replay.
However, as demand for replays grew, we knew we needed a better solution to deliver on-demand access.
TRIBE TV was born. To us, it's Netflix for financial literacy. Through TRIBE TV, you can learn at your own pace.
As the community continued to grow, we added more membership perks like 1:1 and group coaching sessions from experts and 30-day challenges.
So, what's next for TRIBE?
Today, I am happy to announce that the TRIBE app is now officially available in the App Store and Google Play. (Here are the direct links to dowload: iOS and Android! You can also use Text Me the App here to text yourself and others a quick link to download the app.)
That's right, a community fueled by a simple social media post has grown to thousands of members, over 100 virtual events, dozens of success stories (hey, Donna!), and now there's a standalone app!
You know what? We could not have done it without you, our TRIBE community.  🙏
What's the lesson in all of this? Just start. No matter where you are in life, just start. Start that blog, launch that side hustle, apply for that mortgage loan, invest in that index fund, build that website. No matter what you desire to create, just do it.
You'll never be ready. We weren't prepared to build a community that serves thousands. We weren't ready to produce over 100 virtual events in less than a year. We weren't ready to build a streaming platform. And we certainly weren't ready to build two mobile apps in less than 12 months, but we made it happen.
Why? Quite frankly, it's pretty simple for us. These initiatives move us one step closer to creating 100,000 millionaires. That's the gasoline that fuels us and keeps us moving. That's more important to us than anything else.
Through hard work and hardcore commitment, we did it! And you can too!
To recap📝:
Always start with why? Our why is always to move one step closer to creating 100,000 millionaires

Build an MVP

Test, test, test

Talk to your target audience so you can learn more about them and their needs

Build solutions to their headaches

Always add value

Work your ass off!
P.S. Don't forget to leave a 5-star review in your app store when you download the new TRIBE app😉! Here are the direct dowload: iOS and Android links.
P.S.S. I recommend that you also delete/disable notifications from the Mighty Networks mobile app. Otherwise, you may receive duplicate notifications about TRIBE.
The Art And Science Of How To Keep Talented People Around
(Editor's Note: The following article is a guest post by superstar entrepreneur and tech investor Jonathan Schultz.)
The number one reason talented people leave their jobs is because of the failure of their direct managers. Businesses are defined by the strength of their people. Even in the most successful company (think Google, Amazon, etc.), a bad manager can drive talented employees out the door. So what is the true art and science of keeping talented people around?
SITUATIONAL LEADERSHIP
Successful managers apply targeted, dynamic coaching to each individual team member. There is not one management style that works for everyone or every situation. Managers need to adapt their approach to every situation and every team member. This is called situational leadership. This situational leadership model has been used across 70 percent of Fortune 500 companies and has received numerous accolades from training experts.
The model details how we learn new skills and the four stages of mastering new tasks. For every stage and task, managers need to adapt their approach to managing their report.
STAGE 1
When your team member approaches a new and unfamiliar task with a determination to master it, they see opportunity. They are complete beginners in execution, but they possess high motivation and low skill. In this step, the manager needs to take a highly directive approach, where they demonstrate how the task should be done, setting concrete goals and closely reviewing the report's progress as well. You are not being a micromanager by supporting the growth and training of your team. Sometimes your team needs to use your expertise as training wheels.
STAGE 2
This stage is full of frustration. Why? Because it generally takes people more time to master a skill than they'd like. Discouragement will set it and their confidence will lower. While they have built up more skills, their confidence is at its lowest in this stage. In this stage, the manager needs to serve as a cheerleader and remind their team member of why they were chosen to do this task and remind them of how far they have already come.
STAGE 3
In the third stage, people have gained enough skill to complete the task but still maintain a mentality of imposter syndrome in which they are more skilled than their confidence allows them to believe. They may even still be discouraged. In this stage, managers need to do less guiding and allow their team member to perform while self-directly more consistently. These acts of trust can boost the team member's confidence and their dependence on the manager will fade while their confidence increases.
STAGE 4
People reach stage four when their confidence is at the same level as their skill. They become veterans and will continue to boost their confidence and skill set. This is the stage in which the manager steps back and gives the employee the space to continue fostering growth. Check in every now and then and help as needed. Also be sure to recognize the team member for all of their accomplishments along the way.
Keeping talented people around is not hard. Managers just need to apply situational leadership and remember that every team member works and learns differently and need an environment in which they can thrive in. As the leader, you are building this environment, so make sure it is a healthy one.
Jonathan Schultz is an entrepreneur, real estate tech investor and influencer. He's the co-founder of Onyx Equities, a leading private equity real estate firm, and has been voted one of the most powerful people in real estate. Follow Jon's blog here. 
This Guy Co-Built A $4B Company In Four Years - And He Only Works 7 Hours A Day
Cal Henderson is pretty badass.
As co-founder and Chief Technical Officer of Slack — arguably the single most crucial role in any startup — Henderson has helped build a product from zero users to four million daily in just over three years.
About a year ago (cue Shmoney Dance!), Slack announced they'd raised $200 million in its fourth round of venture capital, putting the software at a WHOPPING $3.8B valuation.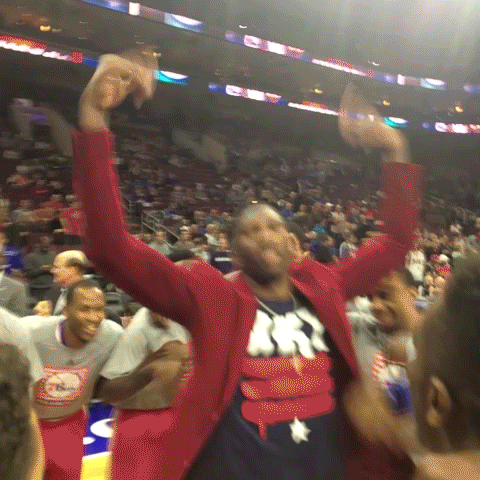 And unlike many all-time greats on #TeamNoSleep (think Leo DaVinci, Thomas Edison and Vince McMahon) — and the modern ones who call for 95-hour work weeks — this dude actually puts his Z's atop his to-do list.
In this Inc.com piece, check out how Big Cal — at 36 — gets down on the time-management end that allows him to work less than a part-time management consultant.
5 Articles Left
Get unlimited access