WWE CEO Vince McMahon Is The Most Alpha Boss Human Being Alive…
WWE owner Vince McMahon may very well be the most #boss CEO in the world.
Not only did he turn a frowned-upon pro wrestling company into a national treasure, he catapulted it into a publicly-traded, billion-dollar juggernaut.
Not to mention, he essentially created pay-per-view—the same model that made Mike Tyson and Floyd Mayweather the highest-paid fighters ever. 
He also built the model for live streaming, which the big networks (ESPN, HBO, Fox etc.) have now copied. 
Despite all his CEOness, Vince McMahon, at his core, is a total G. One time on HBO, in his mind, he was being spoken down to by host Bob Costas.
My man Vinnie almost snaps the mug in half with his teeth. Then says, "I'm a fighter, OK? I enjoy fighting, by the way."
Just pure machismo oozing out of his pores. 
But quite possible the single-most alpha thing McMahon has done is the way he fired his ex-champ Ultimate Warrior. And not on TV—but in real life, like a CEO of a multi-million dollar international corporation.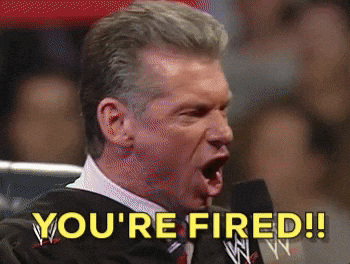 According to Vince, the Ultimate Warrior was demanding a $500K raise, right there, on the spot, just prior to his scheduled match with Hulk Hogan vs. a team of anti-American opponents.
"My responsibility is to present what I have advertised. My responsibility is to the audience," McMahon said about the situation. "So I reluctantly agreed to Warrior's demand, knowing what I was going to do as soon as he came out of the ring."
Although later legal discoveries revealed that it actually came a full month before in a five-page long handwritten letter, which McMahon supposedly agreed to.
Still, McMahon wasn't about to be bullied without repercussions. "It gave me great pleasure to fire him and to let him know why I was doing it."
Soon as Warrior stepped backstage, he was presented with a BRUTAL suspension letter from Vince, splattered with alpha machismo on all sorts of levels.
The gems are plentiful and come in abundance and rapidly so.
"You've become a legend in your own mind; you're certainly entitled to your opinion."
"You've become impossible to work with."
"Your behavior has become unreliable and erratic."
Then there's the many, many reasons why he shouldn't be paid as well as Hulk Hogan.
Anyway, check it out.
Dear Jim:

As you know, on September 23, 1987, you signed a Booking Contract with Titan Sports. At the time you signed the Contract, you were a relatively obscure wrestler with an enthusiastic professed desire to succeed. I therefore invested a substantial amount of time, money, and a sincere energy to develop your talents and person as a worldwide WWF Superstar wrestler, such that you have been able to be successful and achieve stardom status throughout the world.

Unfortunately, it now appears the fame that you have obtained through the efforts of Titan has gone to your head. Frankly, you have become impossible to work with, and have completely forgotten your obligations to Titan and WWF fans, both ethically, professionally, and contractually.
Your principal complaint apparently is that you are not being compensated at the same rate as Hulk Hogan, although 'Hulk' is a living legend, is still much better known to the public, has wrestled longer, is the WWF champion, is in much greater demand for personal appearances, is a bigger star and draw at WWF events, is more dependable and is far more revered and respected by WWF fans and by the public at large.
Here's the full letter: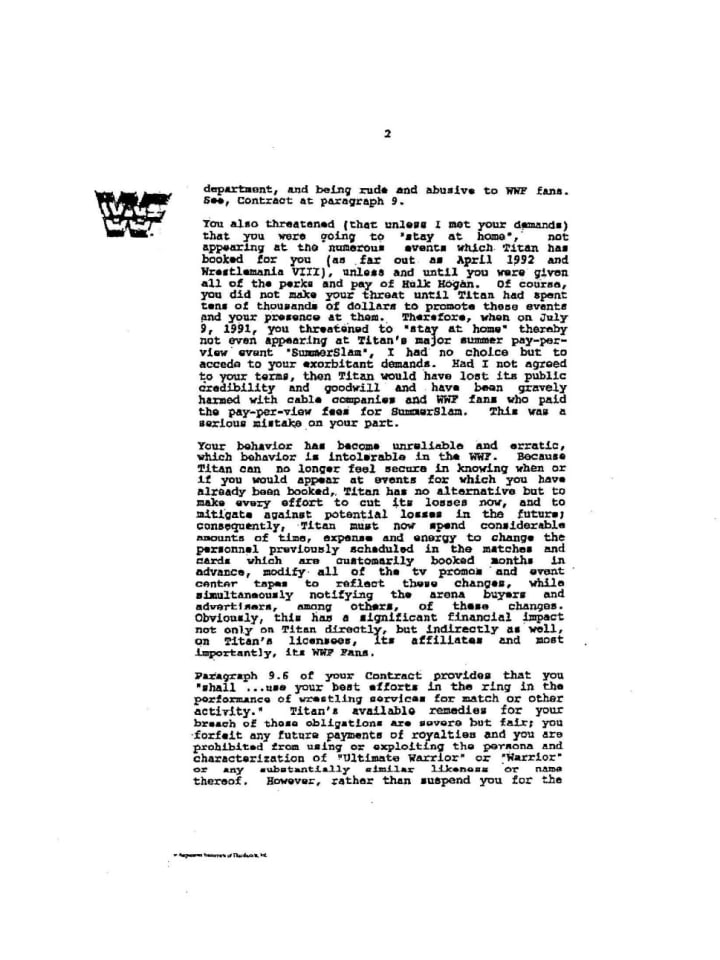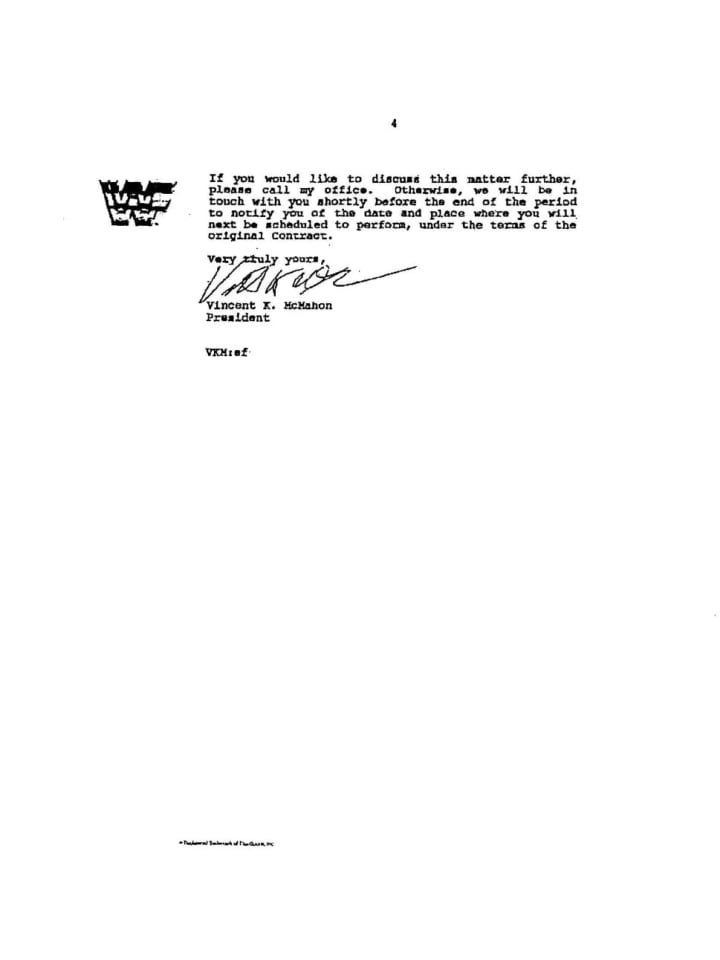 How To Get Team Members On The Same Page: 5 Tactics To Follow
(Editor's Note: The following article is a guest post by superstar entrepreneur and tech investor Jonathan Schultz.)
No matter how advanced artificial intelligence gets, we will always need humans to bring their organization's vision to life. But, how do we bring people on board that can really, truly live and breathe that same vision? What is the secret sauce to getting team members on board without having to twist their arm? Let's find out.
The biggest thing to take into consideration is that different people are influenced by different things. There is not a one-size-fits-all method that will get everyone on board with new ideas and plans. Here are a few ways to get your team members on board:

1. LISTEN TO THEM & LEARN FROM THEM
You need to understand where the biggest issues and concerns within your company lie. You have to create opportunities for people to engage directly. To feel empowered. To move in the direction that allows them the ability to make decisions. You will never win over any team members by making hasty assumptions, so get down to the facts and ask the hard questions, listen to the answers and learn from the feedback you are getting. You can't do every job at your company —so stop trying to!
2. BE RELATABLE
Don't just tell people what you want to do and what you plan to do, give specific reasons for each. There's a reason why MLK and Gandhi were able to get crowds everywhere they went. Remember — people aren't following you for who you are, they're following you for what you believe. Talk about what motivates you, your experiences, who you really are and what you believe in.
You need to show your team a vulnerable and human side so they can relate to you —and then relate to themselves. If your team can understand where you are coming from, they will follow you to the depths of … wherever you go. Be a leader!
3. TAP INTO EMOTIONS
Emotions certainly have a place in business – a very important place, honestly. It's where most important decisions manifest from. As much as we think we're thinking from our heads —the reasons why intuition and "that's a gut feeling" exist is because it's coming from an emotional place. If you are genuinely passionate about your team and your business and you are invested in your ideas, your team will feel that, and so will your customers. Do not hold back.
4. ALWAYS BE CONSISTENT
Your message should never alter. Maybe you pivot, but you need to say what you mean and mean what you say. While your tone may change and your approach may change, your central message should always be consistent. The idea is not to just spout off what you think the audience wants to hear, but to tell them what they need to hear in an honest and professional way. And, allow feedback to come back in the same manner. This is not personal —this is progress. Leaders will win over their them by being transparent and saying things in a way that people can hear.
5. MAKE AN IMPACT THAT MATTERS
What you say and do should be aligned with your company's purpose and goals. You need to make it very clear to your team members how they play into the bigger picture. Remember, without them, there is no picture. When you narrow your focus on purpose, you establish common ground that many people can get behind and support.
These five tips will help you get your full team on board with your vision. Stay honest, be true to your values and make sure your team knows that they are vital and the reason for the company achieving its goals. As we say, there's no "I" in "team".
Jonathan Schultz is an entrepreneur, real estate tech investor and influencer. He's the co-founder of Onyx Equities, a leading private equity real estate firm, and has been voted one of the most powerful people in real estate. Follow Jon's blog here. 
How Mark Cuban Invested $640k In A Company That Started…As A Prank
In what turned out to be a ruse, a startup disguised their business as a prank to raise over $640k from investor Mark Cuban on Shark Tank.
Minneapolis-based entrepreneurs, Ryan Walther and Arik Nordby, founded Prank-O, a business that was built around amusing their friends with bizarre and fake products.
In their pitch to the Sharks, they introduced a string of products in gift boxes — ranging from coffee-maker shower heads to snack hats — only to reveal later that the novel products were fake.
The duo looked to snag an investment of $640k for an 8% stake in the business, before revealing their declining sales — from $10M five years ago to an estimated $2.8M this year.
The dip in sales came after the team tried to branch into creating the prank products, stringing together debt worth nearly $1M.
Despite the numbers, Mark Cuban bit. "I'll make you an offer, but you're going to have to listen," Cuban said.
"You've got a great product, you've got great comedy minds, but your track record speaks for itself, and I don't mean that in any disrespect, but all entrepreneurs go through this," he said, offering $640k for 25%, more than three times what the company initially pitched.
This Mogul Became America's 1st Black Billion-Dollar Businesswoman
Sheila Johnson.
Where to start?
She's the first black billion-dollar businesswoman. Before Oprah Winfrey.
She started as a TV executive, founding Black Entertainment Television (BET), the first TV network targeting African Americans. She then became a real estate mogul.
Oh, she also owns a stake in three major sports franchises, the NBA Wizards, NHL Capitals and the WNBA Mystics, the African American, period, to boast that claim.
In honor of Black History Month, let's dive into her remarkable career.
FAST FACTS:
Born Sheila Crump in McKeesport, Pennsylvania, Johnson co-founded BET in 1979 with then-husband Robert Johnson. The couple sold it to Viacom in 2000 for $2.9B
Sheila Crump Johnson became the first African American woman on the Forbes' Billionaire list in 2000—beating Oprah Winfrey to the distinction.
Per Forbes, Johnson has an $820M net worth as of 2019
Foray into real estate…
After closing the sale to Viacom, Robert and Sheila pocketed around $1.5B each. Johnson used that windfall as seed money to build a hospitality real estate empire in 2005.
"There's a disparity in paychecks between whites and blacks," she told the Wall Street Journal. "I will never forget that."
As CEO of Salamander Hotels and Resorts, Sheila controls a spectacular portfolio of six luxury hotels in Florida, Virginia and South Carolina. And she's built it from the ground up—literally—in her own spirit.
"I've been to many hotels, not only in the US, but all over the world," she told Forbes last year. "And I wanted to find something that was going to really make Salamander stand out beyond all of these hotels."
So what does that mean?
"You have to understand, there are a lot of people, investment companies, with very deep pockets," she says. "They can do it, but they don't have the experiences that we're able to bring. I am constantly trying to find a way to help Salamander Resort & Spa stand out head over heels above any other hotel — not only in the area, but in the nation.
"I want them to leave that resort wanting to come back and not just say, 'I'll be back in six months.' I want them to come back all the time."
And so far it's worked. In fact, on Forbes Travel Guide's 61st list of Star-Rated hotels, Johnson's Salamander Resort & Spa outside of Washington, DC earned a Five-Star distinction.
Forbes: "Everything [she] touches turns to gold."
That's a real quote. From Forbes. Last year. It's also true.
BET? Billion-dollar exit. Washington Capitals? Stanley Cup.
And Roma. Won 10 Oscars. Who showed it before a single soul started caring? Johnson's Middleburg Film Festival. (Which, by the way, has 32 films and counting in Academy Award contention.)
Remember her golf resort at Innisbrook? Oh, yeah. Hosts the Valspar Championship, one of the PGA calendar's most-anticipated tournaments.
Becoming a billionaire comes with a new level of clout as well. "When you don't have money, you're not invited to special events; you really don't matter," she told WSJ. "It's a society thing."
So instead, she's turned to giving back. Her Sheila Johnson Fellowship's paid for more then 40 scholarships at Harvard University for students who otherwise wouldn't afford to attend.
Breaking glass ceilings. 
There's an alarming statistic in business and diversity—especially as it pertains to women. According to research by investor Richard Kerby, 18% of all VCs are women—and only 3% are black. In addition, less than 50 black women ever have raised $1M in funding.
"When I got started," Johnson says, "I couldn't get a loan. I had to use my own money to get Salamander Resort and Spa."
She explained to WSJ last year that men can go to any bank with a bank proposal. And no matter how "wacky" the idea is, she said, "they're going to get the financing. Women do not have that ability."
Johnson's taken it upon herself to do something about that, becoming one of the founding partners of WE Capital, an investment firm that invests in female entrepreneurs.
"I started out in a very unique position where I had my own capital to be able to get started," she says. "But there have got to be banks and investors that believe in helping women who want to be entrepreneurs in the hospitality business.
"And it's just really, really important that they really take a look at this."
5 Articles Left
Get unlimited access