Millennials To Gen Z: 5 Ways They Differ In The Workplace
(Editor's Note: The following article is a guest post by superstar entrepreneur and tech investor Jonathan Schultz.) 
There has been plenty of focus on millennials in the past few years, but it's now time to redirect our attention to Gen Z. Right now Gen Z is entering the workforce and are ready to become the face of corporate America.
While there are plenty of similarities between Gen Z and Millennials, let's look at a few ways they differ.
Gen Z is more competitive
Millennials have been said to be collaborative and teamwork focused and want to operate in an environment where they feel included and part of something bigger. Gen Z is said to be more competitive and want to be judged based off of their individual performance.
Gen Z also understands that there is a need for consistent development in skills in order to compete. This generation will do whatever it takes but certainly wants to reap rewards for it.
Gen Z is highly idependent
Gen Z typically likes to work alone and many of them would rather have their own office space as opposed to working in open and collaborative environments. This generation also prefers to manage their own projects, so their unique skill sets can be exposed.
Gen Z does not want to depend on others to get things done.
Gen Z prefers face-to-face communication
Millennials love to communicate via email, text, and anything other than face-to-face. The Gen Z group are huge in-person interactors and prefer it over the less personal email or text.
Millennials have received a lot of "bad press" for being so attached to their phones and Gen Z wants to transition out of that shadow. This generation will want more in-person meetings to discuss projects, etc.
Gen Z knows technology
Gen Z has known nothing other than technology their entire lives. They grew up with Facebook, texting, etc. Millennials still grew up with landlines and dial-up internet.
While Millennials are tech-savvy, Gen Z has been living in a world of smartphones for as long as they can remember. This generations relationship to technology is almost instinctual rather than learned.
Gen Z expects the workplace to conform to their needs
Gen Z wants everything to be catered to their needs. This is why companies have had to re-think the amenities they offer and how they structure their offices in order to meet the needs of this young workforce.
Companies now have to appeal to this younger mindset and have a less cookie-cutter approach to the environment they create for their employees. While millennials also expect the workplace to conform to their needs, for Gen Z, it could mean the difference between accepting a job offer or not.
There are obviously very clear differences between these two generations. Yes, every member of a generation will have their own unique traits and characteristics, but overall you will see that Gen Z is a more independent and technologically-advanced group in comparison to Millennials.
Jonathan Schultz is an entrepreneur, real estate tech investor and influencer. He's the co-founder of Onyx Equities, a leading private equity real estate firm, and has been voted one of the most powerful people in real estate. Follow Jon's blog here. 
WWE CEO Vince McMahon Is The Most Alpha Boss Human Being Alive…
WWE owner Vince McMahon may very well be the most #boss CEO in the world.
Not only did he turn a frowned-upon pro wrestling company into a national treasure, he catapulted it into a publicly-traded, billion-dollar juggernaut.
Not to mention, he essentially created pay-per-view—the same model that made Mike Tyson and Floyd Mayweather the highest-paid fighters ever. 
He also built the model for live streaming, which the big networks (ESPN, HBO, Fox etc.) have now copied. 
Despite all his CEOness, Vince McMahon, at his core, is a total G. One time on HBO, in his mind, he was being spoken down to by host Bob Costas.
My man Vinnie almost snaps the mug in half with his teeth. Then says, "I'm a fighter, OK? I enjoy fighting, by the way."
Just pure machismo oozing out of his pores. 
But quite possible the single-most alpha thing McMahon has done is the way he fired his ex-champ Ultimate Warrior. And not on TV—but in real life, like a CEO of a multi-million dollar international corporation.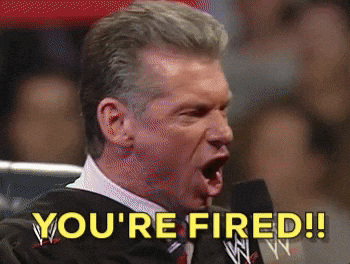 According to Vince, the Ultimate Warrior was demanding a $500K raise, right there, on the spot, just prior to his scheduled match with Hulk Hogan vs. a team of anti-American opponents.
"My responsibility is to present what I have advertised. My responsibility is to the audience," McMahon said about the situation. "So I reluctantly agreed to Warrior's demand, knowing what I was going to do as soon as he came out of the ring."
Although later legal discoveries revealed that it actually came a full month before in a five-page long handwritten letter, which McMahon supposedly agreed to.
Still, McMahon wasn't about to be bullied without repercussions. "It gave me great pleasure to fire him and to let him know why I was doing it."
Soon as Warrior stepped backstage, he was presented with a BRUTAL suspension letter from Vince, splattered with alpha machismo on all sorts of levels.
The gems are plentiful and come in abundance and rapidly so.
"You've become a legend in your own mind; you're certainly entitled to your opinion."
"You've become impossible to work with."
"Your behavior has become unreliable and erratic."
Then there's the many, many reasons why he shouldn't be paid as well as Hulk Hogan.
Anyway, check it out.
Dear Jim:

As you know, on September 23, 1987, you signed a Booking Contract with Titan Sports. At the time you signed the Contract, you were a relatively obscure wrestler with an enthusiastic professed desire to succeed. I therefore invested a substantial amount of time, money, and a sincere energy to develop your talents and person as a worldwide WWF Superstar wrestler, such that you have been able to be successful and achieve stardom status throughout the world.

Unfortunately, it now appears the fame that you have obtained through the efforts of Titan has gone to your head. Frankly, you have become impossible to work with, and have completely forgotten your obligations to Titan and WWF fans, both ethically, professionally, and contractually.
Your principal complaint apparently is that you are not being compensated at the same rate as Hulk Hogan, although 'Hulk' is a living legend, is still much better known to the public, has wrestled longer, is the WWF champion, is in much greater demand for personal appearances, is a bigger star and draw at WWF events, is more dependable and is far more revered and respected by WWF fans and by the public at large.
Here's the full letter: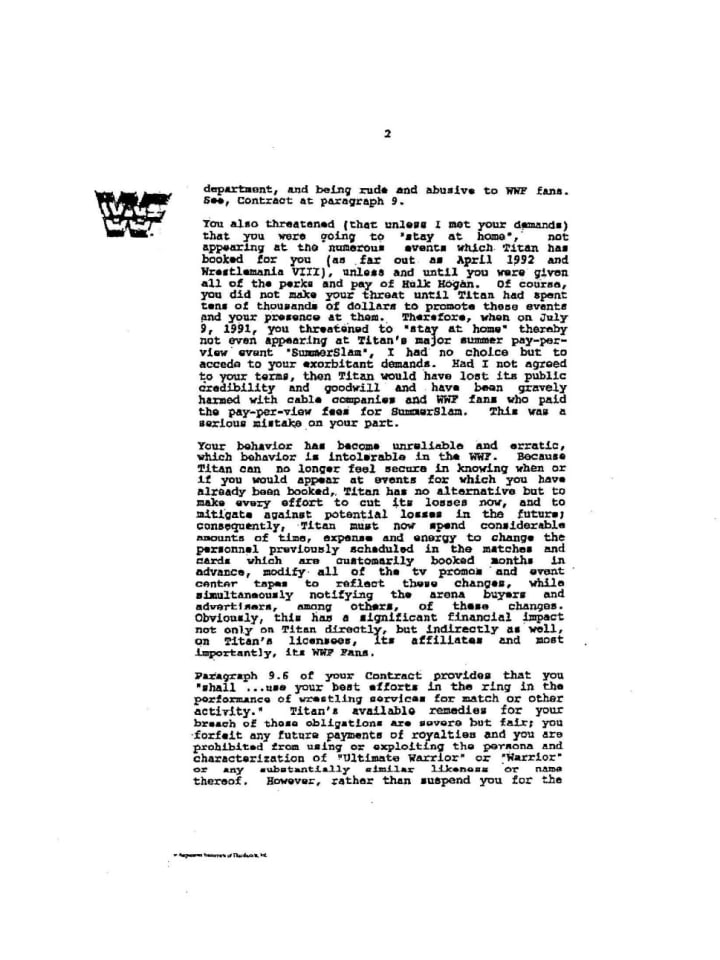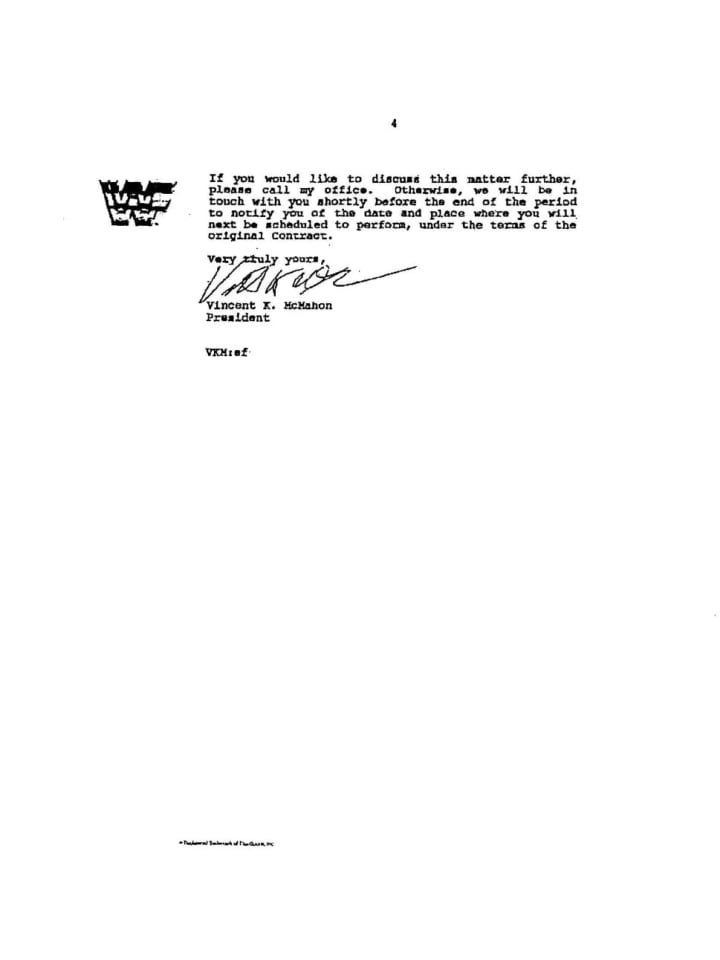 Raising Startup Capital: 4 Funding Sources You Can Bank On
Turning entrepreneur can be an exciting adventure—one that demands an incredible amount of perseverance and hard work. But one of the biggest startup challenges is fundraising. VCs are getting pickier and pickier, so tapping the right fundraising strategy can make or break your business. Here are four ways to tackle that.
1. Bank On Microloans:
Many entrepreneurs take to Kickstarter too soon, before even gauging other options. Microfunding—an SBA-backed program that's been around over 25 years—is a much easier and quicker to get funding vs. a traditional loan. (And it's a great way to build your credit score, as well.) Here's a brief and somewhat-informative video that explores how small business loans work:
What's more, Microlenders also offer flexible payment options, and may mentor entrepreneurs to help them succeed.
2. Get A Partner:
When you're looking for a little extra capital or technical know-how, seeking a co-founder and establishing a partnership can drive capital and planning. If a co-founder isn't in the works, building strategic partnership with complementary businesses is a great avenue to fuel growth. 
3. Sponsorships:
You don't have to vie for a business' CSR initiative or do charity work to get sponsored. As long as your idea sells and you're building a great product, you're on the grind. Sponsorships are largely done through advertising or media appearances. And sometimes by adding their brand to yours for a while.
4. Using Charge Cards:
Charge cards can be a powerful tool to obtain capital for your business. Unlike credit cards, charge cards do not come with a preset spending limit. The perks? It allows you to meet large expenses swiftly. What's the catch? The lender requires you to pay the balance in full every month. If you're financially responsible, charge cards are a great way to meet your costs.
5 Global Fintech Apps To Watch
The fintech space has witnessed significant growth in recent years – marrying tech and finance to simplify a lot of processes for businesses and people like you and me. Here are five fintech apps that you can bank on.
1. Robinhood
This stock trading app comes with a big perk – no commissions. How does it make money? It has a subscription-based service, Robinhood Gold, which charges users a tiered monthly fee for services like extended-hours trading and margin. Available across both iOS and Android platforms, Robinhood has over 4 million accounts currently.
2. Piggybank.ng
In an effort to tap into Africa's growing millennial base, Nigerian fintech startup, Piggybank.ng, aims to help people increase savings – through plans that cater to both low and middle-income Nigerians. Savers don't incur any upfront fees and may deposit as little as a dollar a day, and are discouraged from withdrawing their savings until an agreed date by charging an early withdrawal fee of 5%. What's the interest you gain? Depending on the duration and type of investment, you can expect to accrue anywhere between 10-12.5%.
3. Square Cash
With over 7 million active users, Square Inc's cryptocurrency-integrated payments app, Cash, has enjoyed staggering growth recently. The app simplified payment transfers – if you want to transfer money to a friend, all you have to do is send an email to the friend with the amount, and cc cash@square.com. This move just wiped away the need to create an account or look up bank account details. All it requires is your debit card number.
4. BudgetBakers
BudgetBakers' popular personal finance app, Wallet, helps users track their expenses and allows them to integrate multiple accounts into the app – if you need to add more than three accounts, a small fee is charged. The app provides your expense details across a bunch of useful charts, reports and lending records.
5. Google Wallet
Google jumped the payments space and came out with something packed with great perks – transfer payments with a single tap, coupons to grab bargains, completely paperless and it works across some of the biggest stores like Macy's, Subway, and outlets that permit MasterCard, Visa, Discover and American Express.
Warning
: count(): Parameter must be an array or an object that implements Countable in
/homepages/28/d742565295/htdocs/clickandbuilds/WealthLab/wp-content/themes/zox-news-child/single.php
on line
683
5 Articles Left
Get unlimited access