GRAPH: 63 Fintech Startups That Are Targeting Millennials
Many fintech startups are leveraging existing technologies already popular among young adults such as social networks and mobile messaging.
Project crowdfunding sites GoFundMe and Andreessen Horowitz-backed Tilt, for example, mirror or take advantage of social networks and are largely popular among college audiences. Google Ventures and General Catalyst-backed HelloDigit transfers money directly via text message.
The graphic below breaks down the set of primarily US-based fintech companies appealing to the millennial generation including Robinhood, Acorns, Wealthfront, Earnest and more. (As we've also highlighted separately, startups in the digital banking market have attracted more than $10B since 2010.)
Raising Startup Capital: 4 Funding Sources You Can Bank On
Turning entrepreneur can be an exciting adventure—one that demands an incredible amount of perseverance and hard work. But one of the biggest startup challenges is fundraising. VCs are getting pickier and pickier, so tapping the right fundraising strategy can make or break your business. Here are four ways to tackle that.
1. Bank On Microloans:
Many entrepreneurs take to Kickstarter too soon, before even gauging other options. Microfunding—an SBA-backed program that's been around over 25 years—is a much easier and quicker to get funding vs. a traditional loan. (And it's a great way to build your credit score, as well.) Here's a brief and somewhat-informative video that explores how small business loans work:
What's more, Microlenders also offer flexible payment options, and may mentor entrepreneurs to help them succeed.
2. Get A Partner:
When you're looking for a little extra capital or technical know-how, seeking a co-founder and establishing a partnership can drive capital and planning. If a co-founder isn't in the works, building strategic partnership with complementary businesses is a great avenue to fuel growth. 
3. Sponsorships:
You don't have to vie for a business' CSR initiative or do charity work to get sponsored. As long as your idea sells and you're building a great product, you're on the grind. Sponsorships are largely done through advertising or media appearances. And sometimes by adding their brand to yours for a while.
4. Using Charge Cards:
Charge cards can be a powerful tool to obtain capital for your business. Unlike credit cards, charge cards do not come with a preset spending limit. The perks? It allows you to meet large expenses swiftly. What's the catch? The lender requires you to pay the balance in full every month. If you're financially responsible, charge cards are a great way to meet your costs.
5 Global Fintech Apps To Watch
The fintech space has witnessed significant growth in recent years – marrying tech and finance to simplify a lot of processes for businesses and people like you and me. Here are five fintech apps that you can bank on.
1. Robinhood
This stock trading app comes with a big perk – no commissions. How does it make money? It has a subscription-based service, Robinhood Gold, which charges users a tiered monthly fee for services like extended-hours trading and margin. Available across both iOS and Android platforms, Robinhood has over 4 million accounts currently.
2. Piggybank.ng
In an effort to tap into Africa's growing millennial base, Nigerian fintech startup, Piggybank.ng, aims to help people increase savings – through plans that cater to both low and middle-income Nigerians. Savers don't incur any upfront fees and may deposit as little as a dollar a day, and are discouraged from withdrawing their savings until an agreed date by charging an early withdrawal fee of 5%. What's the interest you gain? Depending on the duration and type of investment, you can expect to accrue anywhere between 10-12.5%.
3. Square Cash
With over 7 million active users, Square Inc's cryptocurrency-integrated payments app, Cash, has enjoyed staggering growth recently. The app simplified payment transfers – if you want to transfer money to a friend, all you have to do is send an email to the friend with the amount, and cc cash@square.com. This move just wiped away the need to create an account or look up bank account details. All it requires is your debit card number.
4. BudgetBakers
BudgetBakers' popular personal finance app, Wallet, helps users track their expenses and allows them to integrate multiple accounts into the app – if you need to add more than three accounts, a small fee is charged. The app provides your expense details across a bunch of useful charts, reports and lending records.
5. Google Wallet
Google jumped the payments space and came out with something packed with great perks – transfer payments with a single tap, coupons to grab bargains, completely paperless and it works across some of the biggest stores like Macy's, Subway, and outlets that permit MasterCard, Visa, Discover and American Express.
FLASHBACK: Amazon Is Worth A Trillion Dollars
This is sick.
One month after Apple cracked the Big T, Amazon just became the second US public company to cross the $1 trillion valuation mark—nearly doubling in value since January.
Amazon came out the 2018 gate at "just" $580B in January. But in Q2, the company's net income ballooned to $2.5B, compared to—again, "just"—$197M 12 months prior in Q2'17.
Which sent the stock into a frenzy.
According to S&P senior index analyst Howard Silverblatt, Amazon and Apple now make up more than 8% of the entire value of the S&P 500.
In other words, Amazon and Apple alone are worth almost as much as 1/10 of the entire fucking stock market.
Other blue-chippers—including century old corps like Boeing (worth $207B) and General Motors ($55B)—are worth way less than their tech peers. Mainly because there's a ceiling on earnings growth.
Apple and Amazon? Not so much. They look like they're just getting started.
Jeff Bezos, rich AF, for the umpteenth time this year, must be sittin' pretty somewhere smiling.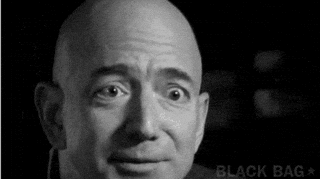 Warning
: count(): Parameter must be an array or an object that implements Countable in
/homepages/28/d742565295/htdocs/clickandbuilds/WealthLab/wp-content/themes/zox-news-child/single.php
on line
683
5 Articles Left
Get unlimited access