EXCLUSIVE Q&A: This 26-Year Old Made $100K From Her IG In 90 Days. Here's How She Did It 👀
Yes, it's a pandemic. Yes, the economy is down. Yet, some entrepreneurs have found opportunity in the "new normal" (whatever that means). 
In the public markets, FAANGs are booming: Amazon and Netflix are up dramatically, fueled by the need for home entertainment…and shopping.
One of them is Ariel Adams, a 26-year-old South Virginia-based realtor. In April, at the height of the lockdown, she had exactly 1000 followers on Instagram. 
Fast forward to today, she's attracted over 100K followers, has made $100K in online sales (again, during the pandemic), and is now showing others how to do the same.
We sat down with Ariel to discuss how she made $100K in 90 days, what she sold, how she got her first customer, and how you can, too.
Let's get right to it. You work in real estate but were able to make $100,000 from your IG in three months. Let's start with the product. What did you sell?
Yes, that's correct. I was shocked myself! My sales came from my digital products, mainly my e-book From Instagram to Instant Money. My e-book dives into how you can optimize your Instagram profile to grow a following and sell your own product. I talk to the Instagram algorithm and how to beat it to ultimately monetize the platform. My other digital product is my course How to $ave Like the Wealthy. As a realtor, I would receive a lot of questions in regards to saving up for a down payment on a home. I decided to create a video outlining the best way to save money and accumulate wealth. Both of those products got me to six figures!
How did you secure your first orders? Who were your buyers?
My sales came from my following. I would collaborate with other brands with significant followings and post my product on their page. This drew in a lot of traffic to my products and also pushed me to 100k followers on Instagram. My buyers were typically people looking to earn passive income by selling a product or service through Instagram.
Was the objective of your advertising to gain followers and sell later? Or did that just happen as a byproduct of people buying your courses?
I never was trying to gain followers, I was always trying to sell. I think people would see my ad, go to my page, and then turn into a follower because I always provide valuable content on my page. My Instagram consists of personal finance infographics, real estate tips, and inspirational quotes. I think people naturally gravitated toward that and I was able to retain and gain followers.
How do you consistently market it? Is this a model anyone can use?
I try to set up placements on these bigger Instagram pages 2-3 times a week. I aim for business pages, women-owned business pages, and black business pages. My product resonates well with entrepreneurs looking to scale their business through IG. It is absolutely a model anyone can use. I recommend following the other steps I speak to in my e-book. This will ensure the most success.
Most aren't aware that partnerships can literally boost your business. How did you come up with the idea of collaboration and what made you target those pages exactly?
Being savvy to Instagram, I was always aware of Influencer Marketing. A lot of people think that's just girls posting brands to their million or so followers, but it includes placements with ANY brand that has a substantial following. I knew this was a key to success. Collaboration on bigger platforms would be the most helpful for my brand. I targeted people I thought would be interested in my product; women CEOs, entrepreneurs, e-commerce enthusiasts, etc. I made sure to stay within that niche.
How did you come up with this idea?
I was inspired by other online entrepreneurs. I saw them making thousands online and I thought to myself, "Hey, I can do that." So I decided to do it. I asked myself, "What am I skilled in? What can I teach people?" From my previous life managing artists in the music industry, I became an expert in Instagram. Combining what I studied at the University of Miami (Business) and my knowledge of Instagram, that's what sparked my e-book on the subject.
What's the number one advice you'd give someone who's looking to make money for themselves but isn't sure where to start?
My advice would be to write down what it is you're good at. Brainstorm what skills you have. Maybe you have a passion for food? Good, create and sell a cookbook. Maybe you're good at writing? You can become a freelance resume writer. We all have skills we can capitalize on. And if you need to learn how to market yourself, then Google is your best friend. Read, read, read. Self-educate and you will be on your way, and of course download my e-book to learn how to sell through Instagram!
EXCLUSIVE Q&A: This 26-Year-Old Got 1M Instagram Followers In 1 Year. Here's How He Did It (And How You Can, Too)
The rise of social media—the internet, really—has created more young entrepreneurs, business rockstars and self-made millionaire than ever before.
Still, one of the most coveted goals for business people is to learn how to crush it on Instagram. David Dang, a young internet entrepreneur, figured out how to do just that.
As owner and founder of @entrepreneurshipfacts, David has managed to create one of the best, fastest-growing channels on IG, pumping out daily motivational content to 1.3M followers. (At the time of this interview, he had recently cleared 1M.)
In just one year, he grew it from 100K to 1M, drawing attention from mega influencers Tony Robbins and Dean Dean Graziosi in the process. Yes, really.
Because we love to bring you the best of the best, we decided to ask David exactly how he managed to grow it like that, what tactics he used and how you (yes, you) can do it, too.
What's up, Dave!

Hey, Phil.
Let's get right to it. You've managed to build a channel with tremendous growth and engagement. What made you start your @entrepreneurshipfacts and how did you grow it?
What started out as an Instagram page for my own personal growth, where I share my favorite inspirational quotes on business and entrepreneurship, and life, in general, really.
I've always knew that a corporate 9-to-5 is not my thing. Started my first little business when I was nine, I was quite an entrepreneurial kid.
Besides unlimited income potential, I love the freedom of being my own boss… I get to work where I want, whenever I want, without anyone telling me what to do or when I can take days off.
There's nothing like it.
To me, this kind of freedom is priceless.
What triggered it for you?
I fell in love with personal development in my teenage years, and happened to read a couple self-help books from Dale Carnegie, Napoleon Hill, Tony Robbins, Robert Kiyosaki, etc. They completely changed my life.
I think that's a common thing in hustlers. You just broke down the holy grail right there.
Yes. If you read any book from the authors I've just mentioned, you will realize a common theme that MINDSET is everything. It is literally the foundation to success, not how much resources you have or who you know.
I truly believe the life you've always wanted begins with your mindset. Despite having a university degree in Entrepreneurship & Marketing, I am now making a living with my online businesses, and also dabbling in investing.
What's your goal with your page?
Although I don't consider myself as being successful or an expert yet to tell people how or what to think, but my goal with this page is to hopefully inspire and influence people's mindset in a positive way. In turn, helping them achieve whatever goals they have in life.
You have over 1M followers. People are loving your content. And everyone wants to know: How?! How do you grow an account like this?
I am proud to say that I've never used any shady tactics or bots to grow my IG account. Everything is 100% organic growth. Besides that, you also need high quality content that people want to see.
Like any social platform, you must understand the platform algorithm and work with it. That's my biggest secret…
In part II of this article, Dave breaks down exactly HOW he selects his content and the secret sauce behind the engagement.
This Guy Co-Built A $4B Company In Four Years - And He Only Works 7 Hours A Day
Cal Henderson is pretty badass.
As co-founder and Chief Technical Officer of Slack — arguably the single most crucial role in any startup — Henderson has helped build a product from zero users to four million daily in just over three years.
About a year ago (cue Shmoney Dance!), Slack announced they'd raised $200 million in its fourth round of venture capital, putting the software at a WHOPPING $3.8B valuation.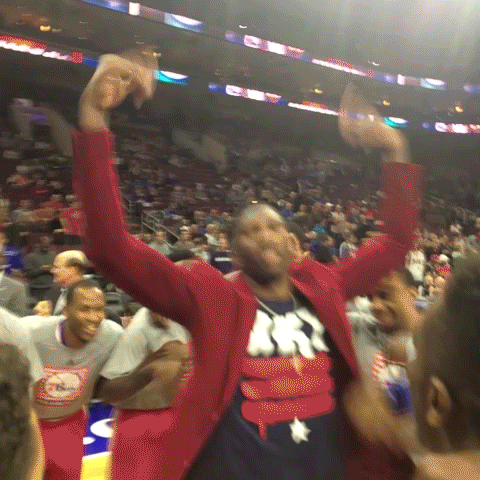 And unlike many all-time greats on #TeamNoSleep (think Leo DaVinci, Thomas Edison and Vince McMahon) — and the modern ones who call for 95-hour work weeks — this dude actually puts his Z's atop his to-do list.
In this Inc.com piece, check out how Big Cal — at 36 — gets down on the time-management end that allows him to work less than a part-time management consultant.
This Mogul Became America's 1st Black Billion-Dollar Businesswoman
Sheila Johnson.
Where to start?
She's the first black billion-dollar businesswoman. Before Oprah Winfrey.
She started as a TV executive, founding Black Entertainment Television (BET), the first TV network targeting African Americans. She then became a real estate mogul.
Oh, she also owns a stake in three major sports franchises, the NBA Wizards, NHL Capitals and the WNBA Mystics, the African American, period, to boast that claim.
In honor of Black History Month, let's dive into her remarkable career.
FAST FACTS:
Born Sheila Crump in McKeesport, Pennsylvania, Johnson co-founded BET in 1979 with then-husband Robert Johnson. The couple sold it to Viacom in 2000 for $2.9B
Sheila Crump Johnson became the first African American woman on the Forbes' Billionaire list in 2000—beating Oprah Winfrey to the distinction.
Per Forbes, Johnson has an $820M net worth as of 2019
Foray into real estate…
After closing the sale to Viacom, Robert and Sheila pocketed around $1.5B each. Johnson used that windfall as seed money to build a hospitality real estate empire in 2005.
"There's a disparity in paychecks between whites and blacks," she told the Wall Street Journal. "I will never forget that."
As CEO of Salamander Hotels and Resorts, Sheila controls a spectacular portfolio of six luxury hotels in Florida, Virginia and South Carolina. And she's built it from the ground up—literally—in her own spirit.
"I've been to many hotels, not only in the US, but all over the world," she told Forbes last year. "And I wanted to find something that was going to really make Salamander stand out beyond all of these hotels."
So what does that mean?
"You have to understand, there are a lot of people, investment companies, with very deep pockets," she says. "They can do it, but they don't have the experiences that we're able to bring. I am constantly trying to find a way to help Salamander Resort & Spa stand out head over heels above any other hotel — not only in the area, but in the nation.
"I want them to leave that resort wanting to come back and not just say, 'I'll be back in six months.' I want them to come back all the time."
And so far it's worked. In fact, on Forbes Travel Guide's 61st list of Star-Rated hotels, Johnson's Salamander Resort & Spa outside of Washington, DC earned a Five-Star distinction.
Forbes: "Everything [she] touches turns to gold."
That's a real quote. From Forbes. Last year. It's also true.
BET? Billion-dollar exit. Washington Capitals? Stanley Cup.
And Roma. Won 10 Oscars. Who showed it before a single soul started caring? Johnson's Middleburg Film Festival. (Which, by the way, has 32 films and counting in Academy Award contention.)
Remember her golf resort at Innisbrook? Oh, yeah. Hosts the Valspar Championship, one of the PGA calendar's most-anticipated tournaments.
Becoming a billionaire comes with a new level of clout as well. "When you don't have money, you're not invited to special events; you really don't matter," she told WSJ. "It's a society thing."
So instead, she's turned to giving back. Her Sheila Johnson Fellowship's paid for more then 40 scholarships at Harvard University for students who otherwise wouldn't afford to attend.
Breaking glass ceilings. 
There's an alarming statistic in business and diversity—especially as it pertains to women. According to research by investor Richard Kerby, 18% of all VCs are women—and only 3% are black. In addition, less than 50 black women ever have raised $1M in funding.
"When I got started," Johnson says, "I couldn't get a loan. I had to use my own money to get Salamander Resort and Spa."
She explained to WSJ last year that men can go to any bank with a bank proposal. And no matter how "wacky" the idea is, she said, "they're going to get the financing. Women do not have that ability."
Johnson's taken it upon herself to do something about that, becoming one of the founding partners of WE Capital, an investment firm that invests in female entrepreneurs.
"I started out in a very unique position where I had my own capital to be able to get started," she says. "But there have got to be banks and investors that believe in helping women who want to be entrepreneurs in the hospitality business.
"And it's just really, really important that they really take a look at this."
You've reached your free article limit.
Continue reading by subscribing.
Already a subsciber? Login >
Go back to Homepage >