VIDEO: Why Millennials Aren't Buying Houses
Low income, student loans and high cost of living are factors affecting millennials from being able to afford purchasing homes in their desired areas. (Unless they're willing to compromise on location and amenities.)
According to a LinkedIn study, it's common for Millennials to change jobs about three times in the first five years after college. Median cost of a home in New York City goes as high as $770K, according to a Business Insider story.
Interestingly enough, young, highly-educated millennials make more than typical American workers, they take up a large part of the population in some of the nation's most dynamic cities and are way more likely to work in well-paid tech jobs.
And yet, they're still struggling to own homes at rates similar to their parents when they were the same age. Obviously culture and trends have something to do with that.
However. A study by Zillow says that Gen Z will own more than its Millennial counterparts in the next 15 years.
By 2035, when the younger Gen Z reaches the same age as Millennials now, experts said they largely expect conditions to be more favorable—and for homeownership among 35-to-44-year-olds to be higher than it is today.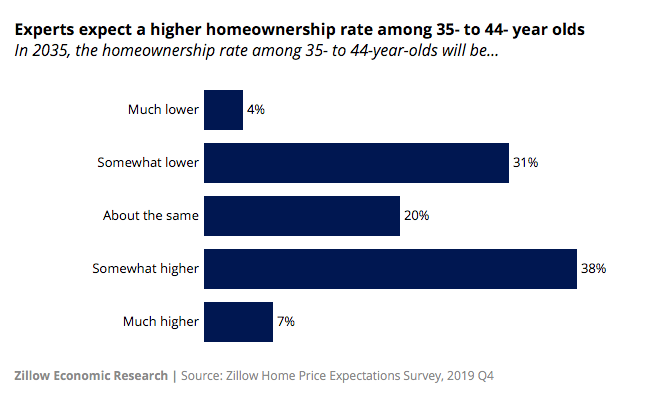 See full video, courtesy of Business Insider.
Top 10 Black Real Estate Accounts To Follow On Instagram
From real estate investing to startups, Instagram's become a goldmine for budding entrepreneurs, offering quick, motivational content across a variety of sectors. 
In our "Top 10" article series, we highlight some of the best accounts in different spaces. In this piece, we highlight the top black real estate accounts to follow.
A bonafide real estate influencer, Jay Morrison's built the Jay Morrison Academy, an Inc. 5000 business that teaches financial literacy. He made history in 2018 when he raised close to $10M in one week for #TREF, the then-largest black-owned real estate crowdfund in the country.
Known for: Jay Morrison Academy, Corner Classes and 
Followers: 414K
Chicago Real Estate Mogul: Here's How You Flip Houses
Chicago-based Sean Conlon is a real estate investor extraordinaire. He started his career in the early '90s, quickly becoming the top residential realtor in the nation with nine figures in annual volume.
Conlon's the host of CNBC's real estate show The Deed. On this show, he helps investors flip properties and intercept the issues that come up along the way. His main advice is to "always have a plan B" and "hold investments for at least five years."
Considering that "shelter" has yet to be disrupted, real estate to date remains an asset class that will never go out of style.
While many real estate shows make flipping look easy, Conlon's program, the Chicago Tribune described it, sheds a different light: "A nerve-wracking endeavor where grit is essential and profits are far from assured."
"Trust but verify," he says about people and his money. (Good one, Sean.) In this video, Conlon gives some insights into how to become a real estate investment master.
Take a look.
VIDEO: 4 Myths About Real Estate, Debunked!
From bubbles to recessions to risk, there are tons of myths surrounding real estate investments. Fortunately for you (and other WealthLAB addicts), most of them are untrue. In this video, WealthLAB's investor/author Philip Michael debunks four myths about real estate investing.
Warning
: count(): Parameter must be an array or an object that implements Countable in
/homepages/28/d742565295/htdocs/clickandbuilds/WealthLab/wp-content/themes/zox-news-child/single.php
on line
683
5 Articles Left
Get unlimited access