Facebook Stock Jumps $28B After Q1 Earning Report
Remember when Facebook first IPO'd and its shares were struggling like SNAP? So Facebook's stock is turning all the way up.
News just hit that Facebook stock jumped more than 6% in after hours trading—good for a $28B and change jump in valuation—after reporting better-than-expected revenue expectations.
And this happened even though Facebook said it could take a one-time charge of as much $5B because of an ongoing Federal Trade Commission inquiry.
In addition to beating its revenue goals, it also matched its projections for daily active user growth. (Who says Facebook is losing its cool factor?!)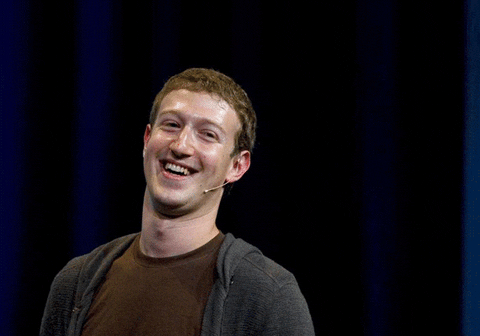 Earnings: 85 cents per share
Revenue: $15.08B, vs. $14.98B, forecast by Refinitiv
Daily active users: 1.56B, vs. 1.56B forecast by FactSet
Monthly active users: 2.38B, vs. 2.37B forecast by FactSet
Average revenue per user: $6.42, vs. $6.39 forecast by FactSet
The company said it counts 2.7B monthly users across its family of apps (Instagram, Whatsapp and so on).
Facebook's user base in Europe grew to 286M daily active users during Q1—up from 282M last quarter. It's North American user base remained flat quarter-to-quarter, however, at 186M.
Zuck says…
"We had a good quarter and our business and community continue to grow," said CEO Mark Zuckerberg in a statement. "We are focused on building out our privacy-focused vision for the future of social networking, and working collaboratively to address important issues around the internet."
[INFOGRAPHIC] How To Start (And Grow) Your Business With $10,000
Today, starting a new business is easier than ever. With Fiverr, Upwork and social media, you can get started in a weekend—and for very little money.
(What you're reading right now was created in a week, by the way…)
But if you actually have a little nest egg saved up?!
Awww, man, you are off to the races! SO without further ado, here's how you can kickstart—and grow—your business with $10,000, courtesy of this oh-so-pretty Infographic from Intuit.
Source: [Intuit]
VIDEO: Warren Buffet Bets Big On These Traits To Become Rich
With a net worth that crosses a whopping $100B, it's hard to question Warren Buffett's investment moves. Here are the traits that the super investor believes can get one to be financially independent and significantly rich.
[Q&A] This Entrepreneur Founded A $50B+ Company—And Then Helped Startups Raise Money From The Crowd
Howard Marks is one of the most influential entrepreneurs in the modern, digital age, a rare founder who's actually innovated before said innovation truly mainstream.
And not just once, but twice.
As founder of Activision, Howard helped kick off a gaming bonanza that's become a worldwide pop culture phenomenon, birthing an entire new industry known as eSports.
Largely driven by Fortnite—a gaming franchise owned by Activision—eSports is expected to top $1.1B this year in global revenues, according to Forbes. Today, Activision is worth over $54B, trading on the Nasdaq stock exchange.
(In fact, had you invested $10K in Howard's IPO, your investment today would be worth well over $700K.)
JOBS Act IPO revolution
Later on, as founder of Startengine, Howard helped kickstart the equity crowdfunding trend, opening an avenue for early-stage startups to raise money and redefine public offerings.
Back in 2012, President Obama signed off on the JOBS Act, allowing companies to go public, taking investments from non-accredited investors (essentially anyone without a net worth of $1M), without having to go through the tedious process of listing on New York Stock Exchange.
As head of Startengine, Howard's built one of the market leaders in the equity crowdfunding space, with $43.72M in total investments in 2019 alone. 
More recently, StartEngine made a coup, joining forces with one of the most influential investors in the form of Shark Tank's "Mr. Wonderful" Kevin O'Leary, as reported by Crowdfund Insider.
Crowdfund Insider, the online authority for all things crowdfunding, recently did an exclusive Q&A with Howard, touching on the new deal with Mr. Wonderful, his business and the future of crowdfunding.
Here's what he had to say.
---
Challenges of crowdfunding…
One of the biggest challenges we face as a company is that equity crowdfunding is not well understood by the general public. If you walk down the street and ask a stranger if they know what equity crowdfunding is, odds are they say they've never heard of it before.
Doing a deal with Mr. Wonderful…
Over the past few years, we've had several Shark Tank alumni raise capital on StartEngine, and we eventually got connected to Kevin. When we learned that he had been following the equity crowdfunding space for a few years and wanted to help inform others about the opportunities for raising capital using equity crowdfunding, it was an easy decision to form a partnership with him.
Mr. Wonderful's role…
Kevin O'Leary is StartEngine's strategic advisor and a StartEngine shareholder. His focus will be on creating more awareness about StartEngine and equity crowdfunding in general. Kevin believes in the equity crowdfunding model and our business and is helping to spread the word. He is even encouraging the companies in his own portfolio to use StartEngine for their next funding round.
Deal flow during the COVID-19…
Our entire team is operating remotely and staying safe during the pandemic, and our business itself is thriving. We've seen a good increase over the last 30 days in the companies applying to raise on StartEngine.
From both the company and investor side, StartEngine's business has proven to be resilient to the uncertainty caused by COVID-19.
On the SEC and raising the cap for what startups can raise…
We support the changes wholeheartedly. It's clear that $1.07M is too low a ceiling for Regulation Crowdfunding [Reg CF], given the average size of seed funding rounds today, and it's time that we increase the limit to help small businesses achieve their goals.
In fact, we encouraged all 10,000+ of our shareholders to write letters to the SEC a month ago to encourage them to increase the limit of Regulation Crowdfunding from $1.07M to $5M to help small businesses today when they desperately need access to capital.
Accredited investors vs. non-accredited investors…
Howard Marks: Our business, and the business of equity crowdfunding, is bringing investment opportunities to non-accredited investors. We do not focus on accredited investors. An expanded definition may encourage those new accredited investors to feel more confident making investments on our platform, as well as increase the amount they can invest in a given year, which would be beneficial to the investing space. However, I don't believe this would have a large impact on equity crowdfunding.
On changes he wants to see…
Howard Marks: The change we are most excited about at StartEngine is the proposal to increase the limit of Regulation Crowdfunding from $1.07M to $5M. Of all of the proposed changes, I believe that one will have the biggest impact for small businesses and will encourage more entrepreneurs to turn to equity crowdfunding.
5 Articles Left
Get unlimited access