Exclusive Q&A: How These 4 College Roommates Built One Of The Top Black Wealth Channels On Instagram
It's one of the more shocking stats that exist in America: Despite trillions in spending power, minorities are at the bottom when it comes to wealth. As of today, there's a wealth gap that will take 228 years to close.
That said. There's currently a movement on social media where a handful of Instagram channels provide real financial and wealth-building advice, particularly in the black community.
We spoke to the founders of one of our favorite channels, @BlackWealthRenaissance.
Ex-roommates in college, Jalen Clark, David Bellard, Jared Spiller and Kelly Rhodes started this as a passion project; they've since grown this 209K+ followers in about a year, with one of the most engaging audience on the 'Gram.
In this two-part Q&A, they break down the importance of wealth building, their mission and why it's important to make your own table.
(Editor's note: This interview was done by WealthLAB editor-in-chief/real estate developer Philip Michael.)
Congrats on all your success. In such a short time. So tell people. What is Black Wealth Renaissance?
Jared: Black Wealth Renaissance is a movement. Our goal is to normalize the topics and conversations around wealth growth and educate African American people through education and awareness through social media.
We will educate as many people as we can reach on ways to achieve financial freedom and positive examples of people who have or are on their way to financial freedom. 
David: Like Jared said, it's a movement. We want to encourage those in our community to take action, educate themselves on finances and personal development, learn how to invest, understand the abundance of opportunity out there, and exhibit unity through practicing self love and group economics.
It's really about embracing an abundance mindset and understanding that we can change our realities if we change our thinking.
So that's the mission tied to the brand?
Kelly: Black Wealth Renaissance is more than just a brand; it's part of a change in culture. We wanted to continue this movement on African Americans learning financial literacy because it's not taught in schools.
And most parents don't even understand some financial literacy concepts to be able to teach to their children. So we created this brand to generate a space where everyone can learn how to build generational wealth. 
It's a really cool name, too.
Jalen: Black Wealth Renaissance is more than just a catchy name or an Instagram account. We are seeing a time of enlightenment in our community—as well as culture—so we decided to highlight the positive energy and impact that is currently happening around us.
What are some of the core messages you guys are trying to push?
Jalen: We want to take away the stigma of money being the root of all evil within our community and show people how it can be a tool of empowerment and ever-lasting change.
That's dope. 
Jalen: To sum it up BWR is a shift from asking for what we want to going out and grabbing life by the horns and taking control of your own destiny. 
How did the mission come about; why did you start it?
David: The mission began really more-so as a passion project. Jared, Kelly, and I were roommates in college and this is the type of stuff we were always talking about at home.
So how did it become an actual idea?
David: The idea of creating an IG page had been something that we floated around because it was a lot of knowledge that we were gaining that we wish we had known earlier—and wanted to share it with others.
One day while having one of our many conversations on the topics of culture and finance, I told Jared, "Man, let's just go ahead and make the page" and here we are seven months later.
Jared: The mission came about after myself and my roommates, Kelly and David, read Rich Dad, Poor Dad.
A classic!
Jared: Yes. We began researching different avenues to create passive income and experimented with many different projects that we never knew would lead up to Black Wealth Renaissance. 
One day, David and I were talking about different ideas and concepts we had heard from our favorite podcast and were talking about how we wanted to spread the word about financial freedom. And he told me to go ahead and start the page.
What happened next?
Jared: From there, we've grown as a team and continue to push towards our goal of educating as many people as possible and exposing them to various pathways to financial freedom. 
Kelly: I noticed that Jared and David created a page that had some good inspirational quotes on it, but I did not fully understand what their goals were in the page.
I called them one night after I got an idea about creating a financial literacy page to help build a brand so we can start a podcast we always talked about.
They told me that was the plan of the page they already created and that they wanted me to be part of this movement.
I think the biggest thing for us growing like we did is from the beginning we focused on helping and teaching to better their financial situations that has always been—and will be—the goal. 
What was your role in all this, Jalen?
Jalen: I was in the background when the page got started, but I was always there since David and I are such good friends; we're constantly around each other, so I would hear him talking to Jared, discussing certain things and would give my input on the topics.
So it wasn't your plan to join right away? 
Eventually I couldn't fight it because I was just as passionate about the things they were talking about and doing. Once the page started to really growing, I jumped on board and haven't looked back. 
I've said this publicly, my goal is to help create 100K new investors create generational wealth through real estate. What's the goal behind your mission?
David: Short term goal is to encourage the conversation of building wealth, while providing tools and resources that can help people take actionable steps to achieve that wealth.
Long term goal is creating an education system to teach financial literacy to the black masses, providing a platform where we can come together to invest in each other's companies.
To create economic independence in our community so that we can begin to implement the changes our people have long sought.
Instead of continually asking for it, because obviously that ain't working. We want this to go down in history as the movement that changed the narrative of Black people in America.
Incredible. Love it.
Jared: To help people. We truly believe that through education we can change the narrative around a lot of problems and hurdles in the African American community.
Once we can change these types of conversations into everyday topics, a lot of things will change for our communities.
I always believed the number one difference between wealth in cultures is what's discussed around the dinner table, those everyday conversions. 
Jared: We just want to get the conversations around financial freedom normalized amongst the African American community.  
Kelly: The goal behind Black Wealth Renaissance is to help—and teach—others how to create generational wealth. Most people would read that and think we want just everyone to have a ton of money—which is nice—but is not our specific goal.
It's about understanding money. So many things that aren't being taught.
Kelly: We want to have African Americans learn financial literacy so they can teach the next generation; so the learning curve for them won't be as steep.
We also want people to be able to pass on businesses, land, real estate, etc. to the next generation, ultimately changing the financial status of not only them but their heritage. 
Jalen: When I think on the mission, I think of it as "to normalize black wealth and share helpful resources and tips we believe will be useful in attaining and maintaining generational wealth."
That's it exactly.
Jalen: It creates an image in my head of more couples and families that look like the Carters and the Obamas.
I think instead of hearing this person is the "first black person to do such-and-such," you're going to hear more of this person was "the first person to ever do this."
I always thought it was so limiting to say that.
Jalen: Right. We won't have to compete for a spot at the table; we are creating our own table. And a spot at other tables will become an open invitation that we have the right to accept or refuse.
That's true freedom right there.
Jalen: We want the topic of personal finance and financial education to be held and taught to the youth and elderly so it is no longer a taboo or sore subject within our community.
We want to break the social molding of "looking like money," while struggling to pay the bills.
The mission is also deeper than creating wealth through money this mission is to become wealthy in all walks of life personal, mentality, collectively, and spiritual. 
EXCLUSIVE Q&A: This 26-Year Old Made $100K From Her IG In 90 Days. Here's How She Did It 👀
Yes, it's a pandemic. Yes, the economy is down. Yet, some entrepreneurs have found opportunity in the "new normal" (whatever that means). 
In the public markets, FAANGs are booming: Amazon and Netflix are up dramatically, fueled by the need for home entertainment…and shopping.
One of them is Ariel Adams, a 26-year-old South Virginia-based realtor. In April, at the height of the lockdown, she had exactly 1000 followers on Instagram. 
Fast forward to today, she's attracted over 100K followers, has made $100K in online sales (again, during the pandemic), and is now showing others how to do the same.
We sat down with Ariel to discuss how she made $100K in 90 days, what she sold, how she got her first customer, and how you can, too.
Let's get right to it. You work in real estate but were able to make $100,000 from your IG in three months. Let's start with the product. What did you sell?
Yes, that's correct. I was shocked myself! My sales came from my digital products, mainly my e-book From Instagram to Instant Money. My e-book dives into how you can optimize your Instagram profile to grow a following and sell your own product. I talk to the Instagram algorithm and how to beat it to ultimately monetize the platform. My other digital product is my course How to $ave Like the Wealthy. As a realtor, I would receive a lot of questions in regards to saving up for a down payment on a home. I decided to create a video outlining the best way to save money and accumulate wealth. Both of those products got me to six figures!
How did you secure your first orders? Who were your buyers?
My sales came from my following. I would collaborate with other brands with significant followings and post my product on their page. This drew in a lot of traffic to my products and also pushed me to 100k followers on Instagram. My buyers were typically people looking to earn passive income by selling a product or service through Instagram.
Was the objective of your advertising to gain followers and sell later? Or did that just happen as a byproduct of people buying your courses?
I never was trying to gain followers, I was always trying to sell. I think people would see my ad, go to my page, and then turn into a follower because I always provide valuable content on my page. My Instagram consists of personal finance infographics, real estate tips, and inspirational quotes. I think people naturally gravitated toward that and I was able to retain and gain followers.
How do you consistently market it? Is this a model anyone can use?
I try to set up placements on these bigger Instagram pages 2-3 times a week. I aim for business pages, women-owned business pages, and black business pages. My product resonates well with entrepreneurs looking to scale their business through IG. It is absolutely a model anyone can use. I recommend following the other steps I speak to in my e-book. This will ensure the most success.
Most aren't aware that partnerships can literally boost your business. How did you come up with the idea of collaboration and what made you target those pages exactly?
Being savvy to Instagram, I was always aware of Influencer Marketing. A lot of people think that's just girls posting brands to their million or so followers, but it includes placements with ANY brand that has a substantial following. I knew this was a key to success. Collaboration on bigger platforms would be the most helpful for my brand. I targeted people I thought would be interested in my product; women CEOs, entrepreneurs, e-commerce enthusiasts, etc. I made sure to stay within that niche.
How did you come up with this idea?
I was inspired by other online entrepreneurs. I saw them making thousands online and I thought to myself, "Hey, I can do that." So I decided to do it. I asked myself, "What am I skilled in? What can I teach people?" From my previous life managing artists in the music industry, I became an expert in Instagram. Combining what I studied at the University of Miami (Business) and my knowledge of Instagram, that's what sparked my e-book on the subject.
What's the number one advice you'd give someone who's looking to make money for themselves but isn't sure where to start?
My advice would be to write down what it is you're good at. Brainstorm what skills you have. Maybe you have a passion for food? Good, create and sell a cookbook. Maybe you're good at writing? You can become a freelance resume writer. We all have skills we can capitalize on. And if you need to learn how to market yourself, then Google is your best friend. Read, read, read. Self-educate and you will be on your way, and of course download my e-book to learn how to sell through Instagram!
EXCLUSIVE Q&A: This 26-Year-Old Got 1M Instagram Followers In 1 Year. Here's How He Did It (And How You Can, Too)
The rise of social media—the internet, really—has created more young entrepreneurs, business rockstars and self-made millionaire than ever before.
Still, one of the most coveted goals for business people is to learn how to crush it on Instagram. David Dang, a young internet entrepreneur, figured out how to do just that.
As owner and founder of @entrepreneurshipfacts, David has managed to create one of the best, fastest-growing channels on IG, pumping out daily motivational content to 1.3M followers. (At the time of this interview, he had recently cleared 1M.)
In just one year, he grew it from 100K to 1M, drawing attention from mega influencers Tony Robbins and Dean Dean Graziosi in the process. Yes, really.
Because we love to bring you the best of the best, we decided to ask David exactly how he managed to grow it like that, what tactics he used and how you (yes, you) can do it, too.
What's up, Dave!

Hey, Phil.
Let's get right to it. You've managed to build a channel with tremendous growth and engagement. What made you start your @entrepreneurshipfacts and how did you grow it?
What started out as an Instagram page for my own personal growth, where I share my favorite inspirational quotes on business and entrepreneurship, and life, in general, really.
I've always knew that a corporate 9-to-5 is not my thing. Started my first little business when I was nine, I was quite an entrepreneurial kid.
Besides unlimited income potential, I love the freedom of being my own boss… I get to work where I want, whenever I want, without anyone telling me what to do or when I can take days off.
There's nothing like it.
To me, this kind of freedom is priceless.
What triggered it for you?
I fell in love with personal development in my teenage years, and happened to read a couple self-help books from Dale Carnegie, Napoleon Hill, Tony Robbins, Robert Kiyosaki, etc. They completely changed my life.
I think that's a common thing in hustlers. You just broke down the holy grail right there.
Yes. If you read any book from the authors I've just mentioned, you will realize a common theme that MINDSET is everything. It is literally the foundation to success, not how much resources you have or who you know.
I truly believe the life you've always wanted begins with your mindset. Despite having a university degree in Entrepreneurship & Marketing, I am now making a living with my online businesses, and also dabbling in investing.
What's your goal with your page?
Although I don't consider myself as being successful or an expert yet to tell people how or what to think, but my goal with this page is to hopefully inspire and influence people's mindset in a positive way. In turn, helping them achieve whatever goals they have in life.
You have over 1M followers. People are loving your content. And everyone wants to know: How?! How do you grow an account like this?
I am proud to say that I've never used any shady tactics or bots to grow my IG account. Everything is 100% organic growth. Besides that, you also need high quality content that people want to see.
Like any social platform, you must understand the platform algorithm and work with it. That's my biggest secret…
In part II of this article, Dave breaks down exactly HOW he selects his content and the secret sauce behind the engagement.
This Guy Co-Built A $4B Company In Four Years - And He Only Works 7 Hours A Day
Cal Henderson is pretty badass.
As co-founder and Chief Technical Officer of Slack — arguably the single most crucial role in any startup — Henderson has helped build a product from zero users to four million daily in just over three years.
About a year ago (cue Shmoney Dance!), Slack announced they'd raised $200 million in its fourth round of venture capital, putting the software at a WHOPPING $3.8B valuation.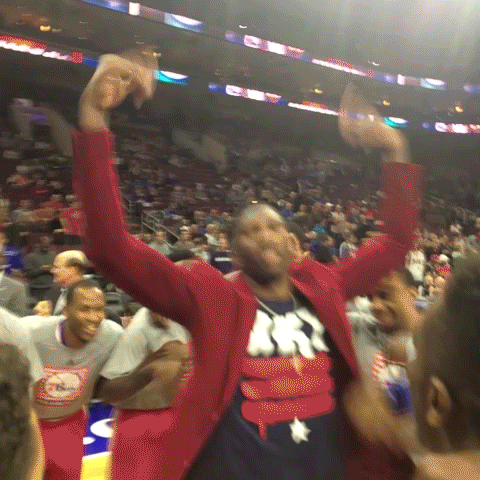 And unlike many all-time greats on #TeamNoSleep (think Leo DaVinci, Thomas Edison and Vince McMahon) — and the modern ones who call for 95-hour work weeks — this dude actually puts his Z's atop his to-do list.
In this Inc.com piece, check out how Big Cal — at 36 — gets down on the time-management end that allows him to work less than a part-time management consultant.
You've reached your free article limit.
Continue reading by subscribing.
Already a subsciber? Login >
Go back to Homepage >