5 Ways To Overcome The Fear Keeping You From Everything You Want
(Editor's Note: The following article is a guest post by superstar entrepreneur and tech investor Jonathan Schultz.) 
One of my favorite sayings goes something like: "everything you want is on the other side of fear." (I Googled this to learn that it's actually a quote from Jack Canfield, the Chicken Soup for the Soul guy. Finally, I know where this came from.) This is so true of both our professional and personal lives. If we're not doing the things we need to do to grow our business or take the next steps in our careers or personal lives, chances are there is an underlying fear holding us back.
It's so easy to blame inaction on other roadblocks like lack of time, money, knowledge, etc., but if we do a little deep dive into our true motivations … I think we'd find that more often than not there's fear of something that's stopping us. I know for me, that has definitely played a role in some of the things that took me longer to start than I would have liked.
Maybe it's a fear of change. Or, a fear of failure? It could also be a fear of being uncomfortable or a fear of the unknown. I think for many leaders, a fear of letting others down is a big one, too. I know that is one I hold close to my heart.
Tony Robbins is famous for telling us that we'll do more to avoid pain than we will to gain pleasure, and I think this is so true — even in business. Everything we do is to either run away from pain or experience pleasure. In essence, he says we need to flip this principle upside-down to focus on the pain. Instead of basking in the pleasure of overeating, for example, focus on how you feel full and tired and heavy when you overeat. After enough time, you'll associate overeating with the pain and not the pleasure and it will be easier to control.
I would argue that if we merge these two principles — facing our fears and focusing on them, rather than avoiding them — that we can see great results. So, for someone who tries to deploy these strategies … here are a few ways that the pros say we can overcome our fears:
#1. UNDERSTAND AND RECOGNIZE THE FEAR
You can't change something that you don't acknowledge. It's important for us to recognize our fears in order to ultimately face and overcome them. When you do this, you might even realize that your fear isn't well-founded — that it doesn't even make sense.
#2. CONSIDER THE WORST-CASE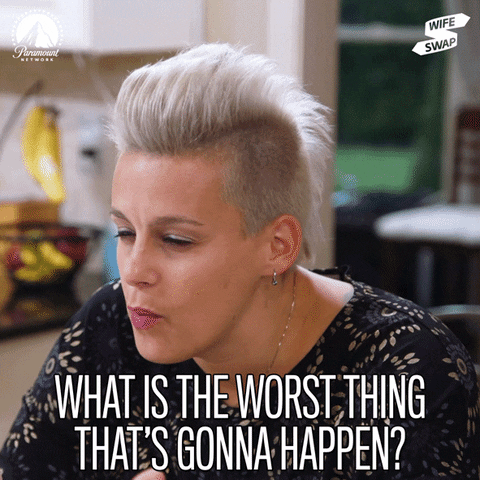 This might sound counter-intuitive, but a lot of experts say that you should then consider the worst-case scenario. What would happen if this fear really came true? In most cases, even the very worst-case is not really that bad.
I guess if the worst-case is actually really, really horrible or you're approaching something that's super high-risk … you should probably stop right here.
#3. NOW THINK OF WHAT THE BEST OUTCOME IS
Okay, now we look at what the best outcome is. What's the best-case scenario. How would it impact your personal life? Your business? Your future? More often than not, we'll find that our worst-case scenario isn't really that bad and that the best-case is really rewarding and/or potentially fruitful for us. And, honestly, we're usually wrong anyways. So, sometimes it's almost better just to push forward and learn by the experience.
#4. FACE YOUR FEAR
Now that we know the two possible outcomes, it's time to face our fears. Find a strategy or mentor to help you push through. Let's say your fear is a fear of the unknown — you can work with a mentor who has a great grasp of that topic or read some books or take a class. Taking action towards meaningful goals and having a plan to achieve them — to push through the fear — can help you see the light on the other side.
#5. KEEP IT UP
One thing that I like to remind myself is to do something every day (or week) that scares me. I want to push myself to be outside of my comfort zone because that's where real learning and personal growth begins. This doesn't mean you have to go sky diving or rock climbing, but finding little ways to push yourself each day will only add to your growth as a human.
What are your biggest business fears? Have you challenged yourself to face and overcome them? Do you do something every day that reminds you to be tougher, stronger, more engaged? I'd love to hear how you're facing and overcoming your fears. Let's continue this over on my LinkedIn page …
Jonathan Schultz is an entrepreneur, real estate tech investor and influencer. He's the co-founder of Onyx Equities, a leading private equity real estate firm, and has been voted one of the most powerful people in real estate. Follow Jon's blog here. 
Wealth-Building Conference Headed to Philly This Summer
Senator Sharif Street and Temple University are bringing community wealth-building to North Philadelphia with a big conference.
Co-hosted by fintech NYCE, the Senator's office announced its inaugural WealthCon event July 23, 2022, at Temple University's main campus.
Closing the racial wealth gap is a major challenge we face in creating a fair and inclusive society," said Street, who represents the Third Senatorial District of Philadelphia, one of the poorest communities in America, "Investing in people is how we elevate communities with a history of divestment and educating folks on financial literacy is a critical step toward that goal."
WealthCon is a community-first experience dedicated to providing direct access to wealth-building programs across Pennsylvania."
We're a big advocate of NYCE's mission of wealth equality and are excited to help address some of the grave issues that have impacted the communities for decades," Street said.
More than 1000 Pennsylvanians, including officials from state, local, and federal governments, will attend WealthCon, including leaders in housing, lending, education, and community development.
The conference will offer panels and keynote conversations, covering the latest opportunities in real estate investing, financial literacy (including stocks, NFTs, cryptocurrency), retirement planning, public safety, entrepreneurship, and more.
"Financial literacy is critical to long-term community building," NYCE CEO Philip Michael said. "We're excited to make that available to everyone."
The evening will conclude with cocktails and networking at the invite-only VIP dinner honoring WealthCon's Innovators of 2022.
Innovators are recognized for their commitment to closing the wealth gap in America, both within their communities and beyond. (To submit your candidate for this year's Innovators Award, please email nat@nycegroup.co.)
Tickets are free for members of the community. All ages are welcome.
Net Operating Income (NOI), Explained
Goes without saying, if you're a new landlord, there are some metrics you just have to know. And if this is the most important metric to master, this one may be the most important, period…
(Pause for dramatic effect…)
The NOI.
Whether it's vetting, buying or managing real estate, NOI—short for Net Operating Income—is arguably the most crucial metric for real estate investors.

NOI is simply your net profits from rental income, after your expenses are paid. Here's why it matters and why it's more important than you think.
Your bottom line
When you have a rental property, your end game is to make a profit. You get your rental income. Deduct your operating expenses like maintenance, repairs and so on. Now you have your net operating income, which is your bottom line.
The formula
Net operating income is real estate's equivalent to corporate finance's EBIT. Here's how it looks:
NOI = all revenue from the property – all operating expenses
It's a simple enough formula, but there are ways you can manage it.
Managing OPEX
In business, there are two ways to increase profits. 1) Increase revenue. 2) Decrease expenses.
Simple enough, right? With rental income, there's only so much you can do to increase revenue. So managing your OPEX is a basic but extremely important metric to monitor — and very often the hack for value-add investors to unlock crazy profits.
Valuation
Here's the real beauty of NOI. Unlike single-family properties, the value of income-producing real estate (using the cap rate formula) is derived directly from the net income you can squeeze from it. Not supply and demand. Not the market. Not the S&P. Not bubbles. None of that.
"Net Worth Hacking"
In other words, if you manage your NOI, you can literally enhance your asset's value. This is at the core of the value-add strategy. This New Jersey group bought a building for $57 million, hacked the NOI through upgrades and management, and BOOM! Sold it three years later for $101 M's.
DIY: How To Improve Your Personal Finances
Even if you're not looking for a property this exact second, you always want to be improving your position.
So, focus on the downtime to improve your finances, get your debt squared away, and put yourself in a better position when you are ready to buy!
It's important to be sure of your financial position before you buy a property because you might find it's harder to get that property than you would have originally thought.
Here are a few ways to quickly improve your finances to help you save more, pay down more debt, and qualify for better loans.
Pay Attention
One of the most common reasons that people struggle financially is because they simply don't pay attention to what is going on in their own financial life. If you are not paying attention, you can't hope to know what is going on and therefore know how to improve matters.
So, the first item on your list is to start paying attention to your finances!
When I'm working on a project, I'm laser-focused on the budget, the details, the costs, etc. But, sometimes in my personal life, I let this slide.
The reality is, when we do have a budget and focus on sticking to it, our bank account balances grow so much faster than when we aren't using one.
I love to eat out, and my wife loves to buy small things around the house. One day, we looked back over the previous year of spending and found we each averaged over $1,000 per month on our hobbies!
By pulling back a little in each area, we were able to save over $1,000 per month but still do the things we enjoyed.
So, start by having a budget!
Even if you are financially well off and can afford most of what you want, by budgeting for the items and spreading the costs out over several months, you'll find that you buy less, spend less, and save more.
Also, if you budget to pay down certain debts faster, you'll see those balances dramatically drop!
So, do not overlook the importance of a family budget.
Save On Other Purchases
There might be a number of other big purchases you need to make before you get hold of your next property, and it is a good idea to make sure that you are only spending as much on those as absolutely necessary.
For any big ticket items, we actually start searching for them months or even a year in advance. For example, let's consider kitchen appliances.
As you know, a full set of appliances can easily cost $5,000-$10,000 if you are getting high-end products. It includes a fridge, double oven, gas cooktop, microwave/fan, and dishwasher.
The first thing we did was go to the store and decide on two or three brands, styles and product lines we wanted. It's hard to compare prices unless you are looking at similar products between stores.
Then, for months we'll watch these items and their prices. Occasionally there will be sales and by tracking the pricing all year, we know which sales are worth getting or not. When we feel we are getting the best price, we'll buy.
And by doing that, we can easily save $500-$1,000 or even more.
We did something similar with our TV, computer monitors, etc. Basically, anything that is currently working that we want to upgrade. Over the course of a year, we are saving thousands of dollars.
You might also use a money saving app to help.
Saving money in all these places will make an enormous difference when it comes to saving for your next down-payment
Pay Down Debt
With all the money you are saving by budgeting and by planning out major purchases, you might want to use some of it to pay down debt.
You'll have to decide if it's better to pay down debt or have a larger down payment because both will hold you back on your next purchase.
But, generally, paying down $1/month in debt is worth about $3/month in income. At least, as far as loans are concerned.
If you do decide to work on paying down your debt, I fully detail a unique debt pay down method to get you into your next rental property faster.
Increase Your Income
Most people just focus on debt, but the reality is you can only cut your expenses so much.
Income, on the other hand, has unlimited potential. So, why not focus on growing your income?
Increasing your monthly income can be done in a number of passive and active ways, and it is worth looking into as many of these as you can to find the right one for you. I outline a number of ways to increase your income in this article on how to earn $10,000 per month.
While earning $10,000 per month in side-income might seem a long way off, it's important to start! Even if you can earn an extra $500 month now, and grow it slowly over time, it's worth it!.
Don't Focus on Just One Thing
As I mentioned already, focusing on just budgeting, or debt paydown can be detrimental to your overall financial goals. It's important to combine a number of different things into an overall strategy, which includes budgeting, debt paydown, and increasing your income.
This article originally appeared on IdealREI. Follow them on Facebook, Instagram and Twitter.
You've reached your free article limit.
Continue reading by subscribing.
Already a subsciber? Login >
Go back to Homepage >