Mastering Decision Making: 7 Great Quotes From The Richest Man Alive
"You have to realize: decision making isn't one size fits all," said Bezos at a gala this month held in New York by FIRST, a global STEM education nonprofit.
How to make the right decision
You must ask yourself two simple questions: "What are the consequences of this decision?" and "Is this decision reversible?"
"Reversible decisions"
According to Bezos, most decisions are low consequence, reversible. and can be made quickly with data and by junior teams. "If you make the wrong decision," Bezos explained, "the cost is low."
Importance of moving fast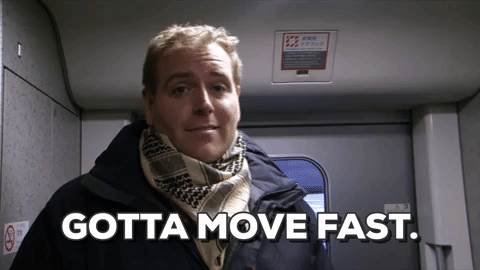 Big companies can become less nimble when small, reversible decisions go through cumbersome bureaucratic process. Bezos says moving fast—even if it's not the best move—still gives you a leg up on the competition.
"The cost of being slow is so much higher than the cost of getting the answer exactly right," he said.
"Don't wait"
he said, "Most decisions should probably be made with somewhere around 70 percent of the information you wish you had," Bezos wrote in a 2016 shareholder letter. "If you wait for 90 percent, in most cases, you're probably being slow."
"Irreversible decisions"
Irreversible decisions, Bezos says, are important decisions that should be made by senior leadership, single individuals or tiny teams.
Here, you have "to use very slow, deliberate decision-making processes," he says. He also calls theses "one-way doors," in a 2015 shareholder letter.
"If you walk through and don't like what you see on the other side, you can't get back to where you were before."
Intuition matters
"People think of Amazon as very data-oriented and I always tell them, look, if you can make the decision with data, make the decision with data," he said. "But a lot of the most important decisions simply cannot be made with data."
Exhibit A: Amazon Prime
"There wasn't a single financially savvy person who supported the decision to launch Amazon Prime. Zero. Every spreadsheet showed that it was going to be a disaster," said Bezos. "So that had to just be made with gut."
"Those kinds of decisions," added Bezos, "they cannot be made analytically, so far as I know. They have to be made with gut."
Mark Cuban: Here's How You Get Rich (In 9 Steps)
Tech billionaire Mark Cuban is known for being the awesome owner of the NBA's Dallas Mavericks. He's also known for making deals on ABC's hit series "Shark Tank."
Ever the hustler, Cuban used to sell everything from baseball cards to trash bags. "My earliest memories are re-packaging baseball cards and selling them," Cuban told a 17-year-old on"Shark Tank."
In this interview with Vanity Fair, Cuban draws on these past experiences and breaks down exactly how you get rich in nine clear steps.
And even though Cuban's worth a cool $3.3B, according to Forbes, the Mavs owner still routinely comes up with ideas for money-making schemes on his very active Twitter.
IMHO The easiest money right now for anyone 14 or older is digging in to be an expert in @Amazon Alexa and @GoogleHomeworld and every compatible device.
Then I would offer to consult and configure the apartment and homes of everyone I know and everyone they know.

— Mark Cuban (@mcuban) January 25, 2018
Amazon announced in December the company had sold "tens of millions" of devices over the holidays, powered by smart voice assistant, Alexa.
A month later, Google then announced it had sold "more than one Google Home device every second since Google Home Mini started shipping in October."
It's ideas like these that helped Cuban build his billion-dollar fortune from $60, the bulk of which came from building—then selling—two technology businesses.
It was on July 4th I left @IUBloomington with $60, hole in my floorboard, case of oil in the trunk & a floor to sleep on in Dallas #Merica

— Mark Cuban (@mcuban) July 4, 2017
His secret? Learning technology on his own time. At the time, Cuban was selling software at a Dallas store called Your Business Software.
"Every night I would take home a different software manual, and I would read them," he writes on his blog. "Every night I would read some after getting home, no matter how late."
4 Ways To Increase Wealth Using Charles Darwin's Theory Of Evolution
Charles Darwin and his theory of evolution revolutionized the scientific understanding of nature and biology. But because evolution is among the most counter-intuitive ideas in science, its public acceptance has been limited.
There are many intelligent and educated people who still do not fully understand or believe it. And more who may accept it as a scientific truth but have not adopted evolution into their mental toolkit, and do not apply it to their perception of reality each and every day.
Here are 4 ways Darwinian thinking can help you understand money, finance and markets, and help you build and protect your wealth:
1. Consider the stock market a biosphere of public corporations that live, evolve and die like plants and animals
The national financial folk wisdom of 1955 was, "As General Motors goes, so goes the nation." Bankruptcy for GM was not only unimaginable, it would assuredly bring the nation down with it.
Yet as we all know GM did indeed go bankrupt in 2009, wiping out common shareholders. And the nation not only survived, our GDP has since nearly septupled, soaring from $2.8 trillion in 1955 to $18 trillion last year.
The DJIA is up from 488 to 26,000 this year.
Folk wisdom and common sense can be myopic, and perceive only the present-day reality projected upon the future. Why else should we be shocked by aging celebrities? Or when venerable corporations cease to outperform, and upstarts such as the FANG gang (Facebook, Amazon, Netflix, Google) take center stage.
"If current trends continue" always sounds prescient. But current trends never continue indefinitely in organic systems where birth, growth, death and evolution rule. The "widows' and orphans' stocks" of the 1950s, the stocks that would always be there, cannot always be there.
Corporations, like people, routinely grow, age and die. So how do you deal with it? Like evolution, you adapt. To a Darwinian thinker the true widows' and orphans' "stock" is a diversified index fund that will endure and grow, even as its components ripen, wither, fade, merge, are replaced and even die.
2. View every living thing, every financial entity, as primarily interested in its own survival, prosperity, expansion or reproduction
Long before Darwin, Adam Smith wisely wrote, "It is not from the benevolence of the butcher, the brewer, or the baker that we expect our dinner, but from their regard to their own interest." Here's the short version, courtesy of Warren Buffett: "Never ask the barber if you need a haircut."
When buying stocks, insurance, or any other service, financial or otherwise, always remember the self-interest of the broker and the seller. A surgeon performs surgery. A lawyer bills every hour. A stockbroker lives on commissions.
A commissioned stockbroker who is reluctant to execute your order to buy shares of Berkshire Hathaway (full disclosure, I buy them, own them and have never sold them) knows you are statistically less likely to sell Berkshire than most other holdings; the money that purchases shares of Berkshire may likely never yield commissions or fees for any broker ever again.
3. Understand that deception and fraud are key survival tactics in biology and finance
A cat deceptively raises its hackles to inflate its size and intimidate enemies and predators. Other animals use mimicry, camouflage, surprise, and even feign injury or death to survive or devour prey.
Consider the Bible, which introduces the power of deception in human life: the serpent deceives Eve, Cain kills Abel and seems to deceive God. Believe it as literal truth or accept it as parable, Bible stories bespeak an essential truth about the centrality of deception in the biosphere.
So why should we expect to escape deception in the high stakes world of finance? While financial professionals provide customers with needed services, self-interest — conscious or not — may lead them to recommend managed mutual funds, closed-end funds, annuities, or complex insurance policies which provide large fees and commissions but may not serve the best interests of the client.
A broker recommending purchases to a client is not held to the fiduciary standard — to act solely in the interests of the client — but only a "suitability" standard, which leaves plenty of room to aggressively sell financial products that are lucrative for the seller, but not the buyer.
4. Realize that our instinct to trust our fellow creatures represents an eternal vulnerability in financial transactions
Humans are social animals, and humanity is a team sport. We are congenial and credulous by nature, which was necessary for the tribal life we evolved from, and is necessary still for sustaining the communal and national life in which we now live, work and prosper.
The counter-trend, so evident in wartime but also present in our workaday world — in media, markets, finance, government and even, courtship and family life — is manipulation and betrayed trust. Think of "fake news." Think of the indicted politician, the con artist, the criminal, the sociopath.
But the Machiavellian betrayal of trust can be adaptive even in successful professionals, entrepreneurs, sales, courtship, marriage and family. A small child caught misbehaving by his father has a stock answer: "Mommy said I could."
So how can we protect ourselves from our own congenital credulousness when approaching financial markets? Read, study and listen to credible sources that have a long track record of honesty and integrity.
If there were a Mt. Rushmore of investing I would nominate these three wise men: John C. (Jack) Bogle, Warren E. Buffett and Charles T. (Charlie) Munger. They have each long honored their investors as partners and friends and have grown their wealth alongside them.
My current book, Anyone Can Be Rich!: A Psychiatrist Provides the Mental Tools to Build Your Wealth, is dedicated to all of them — and was commended by Mr. Buffett himself.
This article originally appeared on ValueWalk. Follow ValueWalk on Twitter, Instagram and Facebook.
DIY: How To Improve Your Personal Finances
Even if you're not looking for a property this exact second, you always want to be improving your position.
So, focus on the downtime to improve your finances, get your debt squared away, and put yourself in a better position when you are ready to buy!
It's important to be sure of your financial position before you buy a property because you might find it's harder to get that property than you would have originally thought.
Here are a few ways to quickly improve your finances to help you save more, pay down more debt, and qualify for better loans.
Pay Attention
One of the most common reasons that people struggle financially is because they simply don't pay attention to what is going on in their own financial life. If you are not paying attention, you can't hope to know what is going on and therefore know how to improve matters.
So, the first item on your list is to start paying attention to your finances!
When I'm working on a project, I'm laser-focused on the budget, the details, the costs, etc. But, sometimes in my personal life, I let this slide.
The reality is, when we do have a budget and focus on sticking to it, our bank account balances grow so much faster than when we aren't using one.
I love to eat out, and my wife loves to buy small things around the house. One day, we looked back over the previous year of spending and found we each averaged over $1,000 per month on our hobbies!
By pulling back a little in each area, we were able to save over $1,000 per month but still do the things we enjoyed.
So, start by having a budget!
Even if you are financially well off and can afford most of what you want, by budgeting for the items and spreading the costs out over several months, you'll find that you buy less, spend less, and save more.
Also, if you budget to pay down certain debts faster, you'll see those balances dramatically drop!
So, do not overlook the importance of a family budget.
Save On Other Purchases
There might be a number of other big purchases you need to make before you get hold of your next property, and it is a good idea to make sure that you are only spending as much on those as absolutely necessary.
For any big ticket items, we actually start searching for them months or even a year in advance. For example, let's consider kitchen appliances.
As you know, a full set of appliances can easily cost $5,000-$10,000 if you are getting high-end products. It includes a fridge, double oven, gas cooktop, microwave/fan, and dishwasher.
The first thing we did was go to the store and decide on two or three brands, styles and product lines we wanted. It's hard to compare prices unless you are looking at similar products between stores.
Then, for months we'll watch these items and their prices. Occasionally there will be sales and by tracking the pricing all year, we know which sales are worth getting or not. When we feel we are getting the best price, we'll buy.
And by doing that, we can easily save $500-$1,000 or even more.
We did something similar with our TV, computer monitors, etc. Basically, anything that is currently working that we want to upgrade. Over the course of a year, we are saving thousands of dollars.
You might also use a money saving app to help.
Saving money in all these places will make an enormous difference when it comes to saving for your next down-payment
Pay Down Debt
With all the money you are saving by budgeting and by planning out major purchases, you might want to use some of it to pay down debt.
You'll have to decide if it's better to pay down debt or have a larger down payment because both will hold you back on your next purchase.
But, generally, paying down $1/month in debt is worth about $3/month in income. At least, as far as loans are concerned.
If you do decide to work on paying down your debt, I fully detail a unique debt pay down method to get you into your next rental property faster.
Increase Your Income
Most people just focus on debt, but the reality is you can only cut your expenses so much.
Income, on the other hand, has unlimited potential. So, why not focus on growing your income?
Increasing your monthly income can be done in a number of passive and active ways, and it is worth looking into as many of these as you can to find the right one for you. I outline a number of ways to increase your income in this article on how to earn $10,000 per month.
While earning $10,000 per month in side-income might seem a long way off, it's important to start! Even if you can earn an extra $500 month now, and grow it slowly over time, it's worth it!.
Don't Focus on Just One Thing
As I mentioned already, focusing on just budgeting, or debt paydown can be detrimental to your overall financial goals. It's important to combine a number of different things into an overall strategy, which includes budgeting, debt paydown, and increasing your income.
This article originally appeared on IdealREI. Follow them on Facebook, Instagram and Twitter.