QUIZ: How Much Do You Really Know About Personal Finance?
How Much Do You Really Know About Personal Finance?
Let's See How Much You Were Paying Attention

The Main Benefits of Being Financially Independent
Being financially independent means different things to different people.
To some, it means retiring and traveling the world, relaxing at home, or doing whatever you love.
For others, it means having the financial stability to have at your back, while you continue your career or business.
In general, financial independence is defined as when your passive income is higher than your living expenses. Here's the issue though…
It can be a moving target.
You need different levels of income at different points in your life. Let me explain
How Much Money Do I Need?
If you are 18 years old and have no debts, are healthy, and can get by with little, the amount of income you actually need to get by is very low.
Eventually, you might get married, have a family, a dog, etc. So, the income you need to sustain this is a lot higher.
Then, the kids move out and you downsize. You need a lot less again.
Then you start to get older and you find your health failing you. Your costs will go up once again.
So, at a minimum, I've already outlined 4 different points in your life where your "financial independence number" will go up or down.
Regardless of the difficulty in calculating exactly how much you'll need, there still are a lot of benefits to strive for financial independence. Let's take a look at those.
Freedom of Choice
I already alluded to it a bit, but the biggest benefit to financial independence is freedom.
As soon as your passive income is higher than your wages, you'll find that you don't need that job. You can continue to work, but you don't have to. So, all the stress is gone.
Same goes if you're a business owner. You can continue to grow your business if you want, but you don't need to.
You could opt to walk away from it and do something else entirely. It allows you could leave the high paying job and find a job that is more rewarding.
Whatever you choose to do, it's because you've achieved Financial Independence.
You'll Be Able to Make More Money
You can never unlock your true potential as long as you are a slave to your job or business. It's hard to pursue other opportunities when you can't afford to leave your job.
As an employee, you can earn money by working more, getting a raise, or getting better positions. But, you are actually very limited because most of your time is dedicated to the job.
And that brings us to the heart of financial independence – time. The most valuable commodity is time, and if your time is spent working for someone else, it isn't spent finding new opportunities for growth.
By growing your passive income to the point where you don't have to work anymore, you can unlock that time and harness all of your intelligence and creative power to pursue more valuable endeavors.
You'll Actually Get to Retire
If you haven't realized it yet, Social Security is going to go broke, pensions can disappear overnight, and even state or municipal government benefits can be slashed to pennies on the dollar.
While some people will be able to retire with these, we should not depend on them entirely. Doing so will make it far less likely that you'll have the security you need or want in retirement.
But, retirement isn't something many of us worry about until it's far too late. We don't save or prepare, then find ourselves unable to retire.
So many people work until they are no longer able to work and they are forced to retire. By then, they have no way to actually enjoy any of their 'retirement.'
If you are financially independent at a young age, you are kind of already retired. Additionally, you can continue to work and just save everything to get to a point where you are truly prepared for retirement.
You might even be able to afford to retire early and enjoy your later years to their full potential.
Passive Income is Like Unemployment Insurance
Unemployment insurance covers only a portion of your lost wages. But, if your passive income is already at or above your wages, then it's like a really good insurance policy.
The fact is that many industries are changing and advancing, which is leaving its older workers behind. Having financial independence means that you've got something to fall back on and can take your time to find new work without worrying.
You Can Plan
A lot of people never plan ahead. While they might plan their next vacation, wedding, or Black Friday shopping spree, most people aren't planning for their finances next month let alone 20 years from now.
A lot of that comes from the belief that it's impossible to get ahead, be successful, wealthy, and secure. Planning ahead would just be depressing.
But, if you work to attain financial independence, planning for the future becomes fun. Who doesn't want to think about the future when the world is your oyster?
You'll Be Less Stressed
Money is one of the leading causes of worry and stress in our society and in most households.
Having more passive income can help with your finances, allowing you to enjoy the company of your spouse and children. It can allow your family to actually enjoy each other rather than always being stressed over paying bills.
Why Aren't You Chasing F.I.?
What is holding you back from pursuing financial independence? Comment below.
This article originally appeared on IdealREI.  Follow them on Facebook, Instagram and Twitter.
(INFOGRAPHIC) 8 Ways To Stretch Your Travel Budget
While the days of lounging at hostels, backpacking and hitchhiking to cities might be far behind you, your travel budget does not have to take a hit. Here are 8 fantastic ways to get the biggest bang for your buck and stretch your budget.
Source: [Lifehack]
5 Money Mistakes That Millennials Are Making In Their Prime Investing Years
Millennials are often accused of making serious money mistakes. In fact, according to a recent study, 80% of Millennials don't invest—and one out of five expect to die in debt. 
Naturally, these financial blunders have a significant impact on their ability to save money, accumulate wealth, and build emergency savings.
Here are five major money mistakes millennials are making in their prime.
1. Millennials are risk-averse
Millennials had to watch their parents lose their retirement savings, pension benefits, and 401ks to the recession, and it didn't go down well with them. 
According to research, most of the millennials are likely to pass on long-term investments—such as stocks—to avoid risk. However, this also limits their ability to create wealth in the long run. A big no-no for those planning to retire in Belize!
2. Inflated lifestyle is the new norm
Do you feel the pressure of matching your peers when it comes to spending? Apparently, most of the millennials do, and it has resulted in inflated lifestyles. Millennials spend an average of $838 on non-essentials, such as cocktails, cabs, and clothing.
The TD Ameritrade survey also finds the leading reasons for millennial credit card debt as paying for necessities, dining out, and shopping.
3. Putting retirement savings for later
When you have over three decades to save for retirement, what's the rush? That's precisely exactly how millennials are planning (or NOT planning!) their retirement savings. 
Not only is delaying savings economically catastrophic. You also lose out on the magical benefits of compound interest. 
(And if you haven't heard of compound interest, just peep this story about how a $14K/year UPS worker retired with $70M just from saving a few bucks a month…)
VIDEO: Shark Tank's Mr. Wonderful Demonstrates Compound Interest
4. Saving nothing for emergencies
A survey from Harris Poll reveals over 20% of millennials would require help from family and friends to pay for an emergency bill of $500.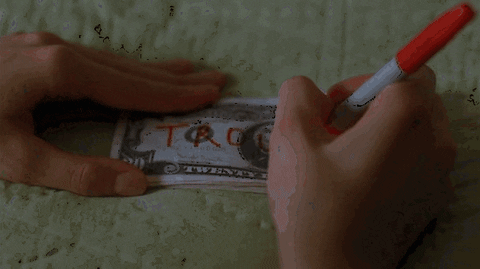 Emergencies are a part of life, and you never know when you're caught up in one. 
The best strategy to survive financial crises is to set apart a portion of your income as emergency savings.
5. Not taking student debt seriously
America has a SERIOUS student debt problem. And millennials are right at the center of it. 
How bad? Well, here goes.
Nearly 45% of millennials have student debt, with net US student debt exceeding $1.5 trillion. 
Needless to say, student debt can hamper the millennials' ability to generate long-term wealth or retirement savings.
The Bottom Line
There's no doubt millennials face a unique set of financial challenges. Goes without saying. Still, careful financial planning, a little bit of fiscal restraint, and financial discipline can help them redefine their financial freedom.
Warning
: count(): Parameter must be an array or an object that implements Countable in
/homepages/28/d742565295/htdocs/clickandbuilds/WealthLab/wp-content/themes/zox-news-child/single.php
on line
681
5 Articles Left
Get unlimited access