What Landed The Wolf Of Wall Street In Prison: 'Pump And Dump Schemes,' Explained
If you've read about stocks, you've probably come across it: the infamous "pump and dump scheme." Pump and dump is a form of securities fraud that artificially hypes and inflates a stock with false and misleading statements. In fact, the pump and dump is the exact scheme that put the 'The Wolf of Wall Street' Jordan Belfort in prison.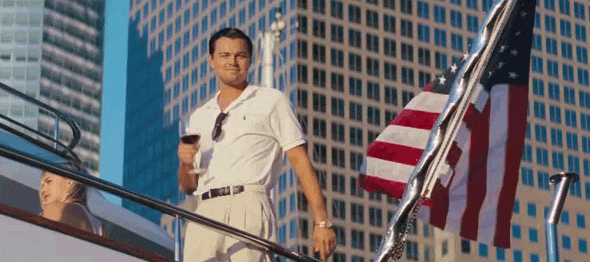 So how does it work? Fret not, #WealthGang, we're here to help.
How it works…
Here an investor or a group of investors promote a stock they purchased at a low price. They manipulate the share price and drive it higher to book significant gains. The stock is generally promoted a "hot tip" or "the next big thing."
Here's what the Wolf himself had to say…
The fraudulent investors will state that an upcoming announcement will send the share price "through the roof." There are several ways to manipulate share prices and these have changed over the years.
The basic idea of a pump and dump scam is to shift supply and demand dynamics. This is done via SMS messaging, email campaigns, online media channels or a fake press release. There are claims to insider information and impending news as stated above.
Again, here's how the Wolf does it in the Hollywood blockbuster.
If an investor is successful in "pumping"  the price of the stock, it will create a sense of euphoria among potential buyers. The increase in stock price and trading volume may convince other retail players to believe in the hype and purchase its shares.
Penny stock are generally targeted in this scam
The pump and dump scheme is tied to penny stocks as it is almost impossible to do so with large-cap stocks or even popular mid-cap and small cap companies. This ploy is used to inflate prices of companies with a small trading volume that are traded over the counter. The stock is then sold for a handsome profit once the price rise has formulated.
Who are impacted in these scams?
More often than not, it is the average retail investor who is a victim of this scam. Retail investors aren't aware of every market dynamic and are inviting prey.
The lure of fast and easy money is difficult to ignore. Even if the retail investors who are a victim of this scam try to sell off the stocks at a significant loss, they might be unable to do so due to a lack of buyers on the OTC markets.
Recent pump-and-dumps. (Yes, we're talking crypto.)
The unregulated crypto market has seen several pump and dump scams where investors have burned significant wealth. They need to be wary of a stock tip from someone unknown to them and think why that party would be so willing to give out insider information.
Though there are stock market regulators, such as the SEC, it is difficult to keep an eagle eye on every stock trading on the exchange or over the counter. For whatever it's worth, as far as crypto goes, even Belfort—the Wolf man himself—says crypto is similar to what he used to peddle.
Jordan Belfort's Bitcoin Warning

Jordan Belfort – Wolf of Wall Street — "I've never invested in cryptocurrency, ever, not once, and I never will."Check out Jordan's new book — http://amzn.to/2GXzgegbelfortnyc.com

Posted by BoldTV on Wednesday, February 7, 2018
Exclusive Q&A: How These 4 College Roommates Built One Of The Top Black Wealth Channels On Instagram
It's one of the more shocking stats that exist in America: Despite trillions in spending power, minorities are at the bottom when it comes to wealth. As of today, there's a wealth gap that will take 228 years to close.
That said. There's currently a movement on social media where a handful of Instagram channels provide real financial and wealth-building advice, particularly in the black community.
We spoke to the founders of one of our favorite channels, @BlackWealthRenaissance.
Ex-roommates in college, Jalen Clark, David Bellard, Jared Spiller and Kelly Rhodes started this as a passion project; they've since grown this 209K+ followers in about a year, with one of the most engaging audience on the 'Gram.
In this two-part Q&A, they break down the importance of wealth building, their mission and why it's important to make your own table.
(Editor's note: This interview was done by WealthLAB editor-in-chief/real estate developer Philip Michael.)
Congrats on all your success. In such a short time. So tell people. What is Black Wealth Renaissance?
Jared: Black Wealth Renaissance is a movement. Our goal is to normalize the topics and conversations around wealth growth and educate African American people through education and awareness through social media.
We will educate as many people as we can reach on ways to achieve financial freedom and positive examples of people who have or are on their way to financial freedom. 
David: Like Jared said, it's a movement. We want to encourage those in our community to take action, educate themselves on finances and personal development, learn how to invest, understand the abundance of opportunity out there, and exhibit unity through practicing self love and group economics.
It's really about embracing an abundance mindset and understanding that we can change our realities if we change our thinking.
So that's the mission tied to the brand?
Kelly: Black Wealth Renaissance is more than just a brand; it's part of a change in culture. We wanted to continue this movement on African Americans learning financial literacy because it's not taught in schools.
And most parents don't even understand some financial literacy concepts to be able to teach to their children. So we created this brand to generate a space where everyone can learn how to build generational wealth. 
It's a really cool name, too.
Jalen: Black Wealth Renaissance is more than just a catchy name or an Instagram account. We are seeing a time of enlightenment in our community—as well as culture—so we decided to highlight the positive energy and impact that is currently happening around us.
What are some of the core messages you guys are trying to push?
Jalen: We want to take away the stigma of money being the root of all evil within our community and show people how it can be a tool of empowerment and ever-lasting change.
That's dope. 
Jalen: To sum it up BWR is a shift from asking for what we want to going out and grabbing life by the horns and taking control of your own destiny. 
How did the mission come about; why did you start it?
David: The mission began really more-so as a passion project. Jared, Kelly, and I were roommates in college and this is the type of stuff we were always talking about at home.
So how did it become an actual idea?
David: The idea of creating an IG page had been something that we floated around because it was a lot of knowledge that we were gaining that we wish we had known earlier—and wanted to share it with others.
One day while having one of our many conversations on the topics of culture and finance, I told Jared, "Man, let's just go ahead and make the page" and here we are seven months later.
Jared: The mission came about after myself and my roommates, Kelly and David, read Rich Dad, Poor Dad.
A classic!
Jared: Yes. We began researching different avenues to create passive income and experimented with many different projects that we never knew would lead up to Black Wealth Renaissance. 
One day, David and I were talking about different ideas and concepts we had heard from our favorite podcast and were talking about how we wanted to spread the word about financial freedom. And he told me to go ahead and start the page.
What happened next?
Jared: From there, we've grown as a team and continue to push towards our goal of educating as many people as possible and exposing them to various pathways to financial freedom. 
Kelly: I noticed that Jared and David created a page that had some good inspirational quotes on it, but I did not fully understand what their goals were in the page.
I called them one night after I got an idea about creating a financial literacy page to help build a brand so we can start a podcast we always talked about.
They told me that was the plan of the page they already created and that they wanted me to be part of this movement.
I think the biggest thing for us growing like we did is from the beginning we focused on helping and teaching to better their financial situations that has always been—and will be—the goal. 
What was your role in all this, Jalen?
Jalen: I was in the background when the page got started, but I was always there since David and I are such good friends; we're constantly around each other, so I would hear him talking to Jared, discussing certain things and would give my input on the topics.
So it wasn't your plan to join right away? 
Eventually I couldn't fight it because I was just as passionate about the things they were talking about and doing. Once the page started to really growing, I jumped on board and haven't looked back. 
I've said this publicly, my goal is to help create 100K new investors create generational wealth through real estate. What's the goal behind your mission?
David: Short term goal is to encourage the conversation of building wealth, while providing tools and resources that can help people take actionable steps to achieve that wealth.
Long term goal is creating an education system to teach financial literacy to the black masses, providing a platform where we can come together to invest in each other's companies.
To create economic independence in our community so that we can begin to implement the changes our people have long sought.
Instead of continually asking for it, because obviously that ain't working. We want this to go down in history as the movement that changed the narrative of Black people in America.
Incredible. Love it.
Jared: To help people. We truly believe that through education we can change the narrative around a lot of problems and hurdles in the African American community.
Once we can change these types of conversations into everyday topics, a lot of things will change for our communities.
I always believed the number one difference between wealth in cultures is what's discussed around the dinner table, those everyday conversions. 
Jared: We just want to get the conversations around financial freedom normalized amongst the African American community.  
Kelly: The goal behind Black Wealth Renaissance is to help—and teach—others how to create generational wealth. Most people would read that and think we want just everyone to have a ton of money—which is nice—but is not our specific goal.
It's about understanding money. So many things that aren't being taught.
Kelly: We want to have African Americans learn financial literacy so they can teach the next generation; so the learning curve for them won't be as steep.
We also want people to be able to pass on businesses, land, real estate, etc. to the next generation, ultimately changing the financial status of not only them but their heritage. 
Jalen: When I think on the mission, I think of it as "to normalize black wealth and share helpful resources and tips we believe will be useful in attaining and maintaining generational wealth."
That's it exactly.
Jalen: It creates an image in my head of more couples and families that look like the Carters and the Obamas.
I think instead of hearing this person is the "first black person to do such-and-such," you're going to hear more of this person was "the first person to ever do this."
I always thought it was so limiting to say that.
Jalen: Right. We won't have to compete for a spot at the table; we are creating our own table. And a spot at other tables will become an open invitation that we have the right to accept or refuse.
That's true freedom right there.
Jalen: We want the topic of personal finance and financial education to be held and taught to the youth and elderly so it is no longer a taboo or sore subject within our community.
We want to break the social molding of "looking like money," while struggling to pay the bills.
The mission is also deeper than creating wealth through money this mission is to become wealthy in all walks of life personal, mentality, collectively, and spiritual. 
100% Immediate Expensing Won't Help Bring Back American Jobs
As the country continues to battle the health and economic crises brought on by the Coronavirus pandemic, leaders and policymakers in Washington are considering a number of tax-related measures to hasten recovery and stimulate the economy in the wake of this generational crisis. One such proposal would expand full and immediate expensing to include structures. The popular thinking is that this measure would incentivize companies to invest in US facilities, including and especially those companies who have historically opted to offshore much of their manufacturing footprint. While this proposal is certainly well-intentioned, if enacted it would have far more negative consequences, and far fewer benefits, than many realize.
It is important to remember that the tax reforms of the 1980s tried this approach, accelerating depreciation to 15 years for real estate in an attempt to stimulate the economy. While thoughtfully considered, this measure resulted in massive overbuilding and the use of real estate as a tax shelter, a dynamic that contributed significantly to the savings and loan/real estate crisis at that time. As a result, the depreciation schedule for structures was eventually lengthened to better reflect the true useful life of a structure or real estate. While measures were put in place to try to prevent entities using the construction of buildings as a tax shelter, there are ways to get around the rules. Expanding immediate expensing to include structures today would incite the same unintended consequences the U.S. experienced in the 1980s.
Some economists continue to cite that immediate expensing of structures, to include manufacturing plants, office buildings, and commercial real estate, would contribute substantially to the growth of gross domestic product and encourage companies to return to the U.S. However, these assumptions are flawed as they do not account for the tax consequences and restrictions unique to real estate, which prevent immediate expensing for structures and buildings from yielding the same economic benefits that may result if applied to other capital expenditures.
These models also do not reflect the very real dynamics of a post-COVID-19 business environment.  In the last few days, some of our country's largest employers including Facebook and Twitter have offered their employees extended teleworking flexibility well after a phased re-opening of America begins. COVID-19 has shown that through technology, a large number of employees are capable of being highly productive working from home, providing an opportunity for companies to shed tremendous office space costs from their books, and leaving uncertainty to the future need for office space in the U.S.  We cannot afford a situation where office buildings are built for tax benefit rather than market need.
Most economists' models that demonstrate GDP growth from the inclusion of real estate in full and immediate expensing do not factor in basic real estate tax rules, such as, recapture taxes, passive loss, basis, at-risk limitation rules, or other market drivers, as well as company valuations and shareholder requirements. They also often rely on European data that does not effectively reflect U.S. economic realities. As a result, many of these models overstate both the increased investment that would result from immediate expensing, as well as the extent to which immediate expensing would incentivize U.S. companies to re-shore production lines and facilities currently located overseas.
Also of great concern is the possibility that providing immediate expensing for structures will greatly increase the incentive to utilize debt financing, which many economists believe is already too attractive. Take, for example, an investor purchasing a $10 million building with $8 million in debt financing and just $2 million in equity. Under immediate expensing, that investor would receive a $10 million tax write-off despite having only expended roughly $2 million. This is a dangerous tax loophole that could hinder the U.S. recovery from the economic fallout of COVID-19.
Finally, there is the cost. The most recent estimate conducted by the Tax Foundation found that providing full and immediate expensing for structures would cost the Treasury nearly $1 trillion over the next ten years. While many agree that repairing the damage COVID-19 has wrought to our economy will require significant and innovative government support, there are better ways to stimulate growth and encourage U.S. companies to re-shore their innovation and manufacturing capabilities that do not carry the same unintended consequences.
Fortunately, there are much stronger alternatives to bring companies and innovation back to the United states, to lessen our reliance on foreign countries, and to support small businesses in the wake of COVID-19. Allowing companies to continue to immediately expense research and development and equipment expenses, providing manufacturing facility credits to companies committed to stay in the U.S. and on-shore, developing a robust, but low risk government backed loan program to support critical next generation technology development and manufacturing in the U.S., and providing a more immediate payroll tax holiday for small businesses and individuals. These types of highly effective actions that would result in a more impactful near-term and long-term stimulus to the nation's businesses and job opportunities for Americans.
CHART: How Blockchain Powers Bitcoin
Blockchain, Bitcoin. Bitcoin, blockchain.
The two terms go hand in hand—and have become almost ubiquitous with this year's insane rise (and fall) of Bitcoin.
But what does it all really mean? How does it come together? In this week's chart, our friends at CB Insights break down exactly how blockchain powers Bitcoin.
Warning
: count(): Parameter must be an array or an object that implements Countable in
/homepages/28/d742565295/htdocs/clickandbuilds/WealthLab/wp-content/themes/zox-news-child/single.php
on line
683
5 Articles Left
Get unlimited access