What Landed The Wolf Of Wall Street In Prison: 'Pump And Dump Schemes,' Explained
If you've read about stocks, you've probably come across it: the infamous "pump and dump scheme." Pump and dump is a form of securities fraud that artificially hypes and inflates a stock with false and misleading statements. In fact, the pump and dump is the exact scheme that put the 'The Wolf of Wall Street' Jordan Belfort in prison.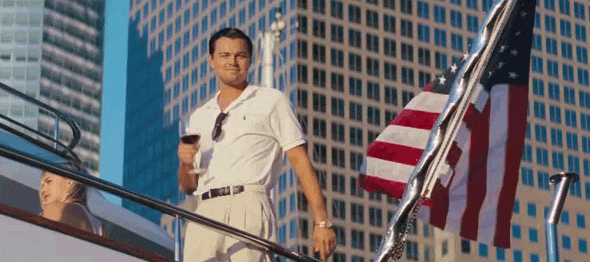 So how does it work? Fret not, #WealthGang, we're here to help.
How it works…
Here an investor or a group of investors promote a stock they purchased at a low price. They manipulate the share price and drive it higher to book significant gains. The stock is generally promoted a "hot tip" or "the next big thing."
Here's what the Wolf himself had to say…
The fraudulent investors will state that an upcoming announcement will send the share price "through the roof." There are several ways to manipulate share prices and these have changed over the years.
The basic idea of a pump and dump scam is to shift supply and demand dynamics. This is done via SMS messaging, email campaigns, online media channels or a fake press release. There are claims to insider information and impending news as stated above.
Again, here's how the Wolf does it in the Hollywood blockbuster.
If an investor is successful in "pumping"  the price of the stock, it will create a sense of euphoria among potential buyers. The increase in stock price and trading volume may convince other retail players to believe in the hype and purchase its shares.
Penny stock are generally targeted in this scam
The pump and dump scheme is tied to penny stocks as it is almost impossible to do so with large-cap stocks or even popular mid-cap and small cap companies. This ploy is used to inflate prices of companies with a small trading volume that are traded over the counter. The stock is then sold for a handsome profit once the price rise has formulated.
Who are impacted in these scams?
More often than not, it is the average retail investor who is a victim of this scam. Retail investors aren't aware of every market dynamic and are inviting prey.
The lure of fast and easy money is difficult to ignore. Even if the retail investors who are a victim of this scam try to sell off the stocks at a significant loss, they might be unable to do so due to a lack of buyers on the OTC markets.
Recent pump-and-dumps. (Yes, we're talking crypto.)
The unregulated crypto market has seen several pump and dump scams where investors have burned significant wealth. They need to be wary of a stock tip from someone unknown to them and think why that party would be so willing to give out insider information.
Though there are stock market regulators, such as the SEC, it is difficult to keep an eagle eye on every stock trading on the exchange or over the counter. For whatever it's worth, as far as crypto goes, even Belfort—the Wolf man himself—says crypto is similar to what he used to peddle.
Jordan Belfort's Bitcoin Warning

Jordan Belfort – Wolf of Wall Street — "I've never invested in cryptocurrency, ever, not once, and I never will."Check out Jordan's new book — http://amzn.to/2GXzgegbelfortnyc.com

Posted by BoldTV on Wednesday, February 7, 2018
INFOGRAPHIC: How To Invest Your Money (In 8 Simple Steps)
Plenty of savers are making do with low rates of return on their deposits—almost eroding the value of their savings. Here's a guide on how you should invest your money and gain some great returns off it.
Will Cloud Gaming Drive The Next Big Gaming Transition?
The global gaming industry has always been a disruptive one. Nuclear physicist Edward Condon developed the first computer game in 1941 called Nim, one which pretty much saw the computer win 90% of the time.
The disruption didn't fizzle out. Soon afterwards, the first programming guidelines were written for a chess game developed by Claude Shannon, while a decade later the US Department of Defense created a war game — STAGE.
This really set the stage for what was to come later — video games. American investor Ralph Baer wasted no time and conceived the idea of playing video games on TV, and the world's first gaming console was released. The rapid evolution of gaming consoles coupled with gaming design and the introduction of graphics cards have taken the global gaming industry by storm.
In the last decade, the evolution of smartphones opened up a totally new segment known as digital gaming. In 2016,  Activision Blizzard paid close to $6B to acquire King Digital- a digital gaming behemoth. Not one to trail far behind, the eSports segment, despite its nascency, proved to be a long-term revenue driver for top gaming firms.
Will cloud gaming be the next key driver in global games?
Now companies such as Microsoft [MSFT], Google [GOOG] and Electronic Arts [EA] aim to create a market for cloud gaming. So what exactly is cloud gaming? It's similar to online streaming services such as Netflix [NFLX] and Amazon Prime [AMZN], but with games.
Cloud gaming will allow users to play games on their computer or mobile devices. A remote server will send players video feed and receive controller inputs. This now means that players no longer need to purchase gaming consoled to play the latest games. All you need is a stable internet connection.
Google's cloud gaming project is called Project Stream and the company launched a beta test last month. Players required a Google Chrome browser and an internet connection of 25 Mbps or higher.
Microsoft which also manufactures the Xbox consoles announced its cloud gaming platform known as Project xCloud. It has confirmed several Xbox games for beta testing such as Halo, Minecraft, and Gears of War.
The tech giant is hoping for growing interest in cloud gaming to offset any declining sales in gaming consoles.
Following Google and Microsoft, top gaming publisher Electronic Arts has forayed into this space, with a project known as Project Atlas.
Will this move garner global attention?
The shift to cloud gaming is going to be as disruptive as any in the gaming space. Players can now subscribe and stream games online instead of spending over $300 for the latest gaming console. The cloud gaming space is expected to grow at a compound annual growth rate of 26% between 2017 and 2023.
While Netflix and Amazon have changed the consumption of entertainment via cord cutting, it is very likely that cloud gaming will soon be a hit among players in a few years time. Is this the end of the gaming console?
10 Stock Terms Every Newbie Investor Should Know
Investing in the financial markets can seem quite tricky. There are far too many stories where people tried to play the stock market without much success. When the markets are on a roll, everyone wants a piece of the pie.
Here are 10 terms every investor cannot afford to miss.
1. Market Cap
The market capitalization of a stock is simply the total number of outstanding shares multiplied by the share price of the company. Companies are generally differentiated on the basis of market cap.
Small cap companies generally have a market cap of between $300M and $2B, while mid-caps are between $2B and $10B. Any company with a market cap over $10B is considered a large-cap. While small-cap and mid-cap stocks have historically outperformed large caps, they are also way riskier.