What Landed The Wolf Of Wall Street In Prison: 'Pump And Dump Schemes,' Explained
If you've read about stocks, you've probably come across it: the infamous "pump and dump scheme." Pump and dump is a form of securities fraud that artificially hypes and inflates a stock with false and misleading statements. In fact, the pump and dump is the exact scheme that put the 'The Wolf of Wall Street' Jordan Belfort in prison.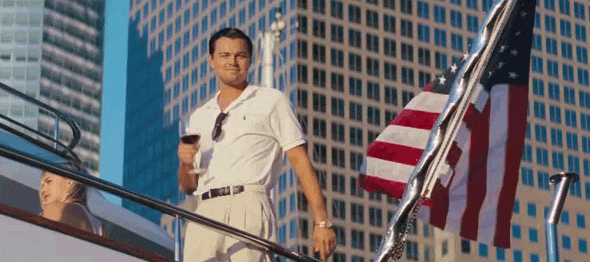 So how does it work? Fret not, #WealthGang, we're here to help.
How it works…
Here an investor or a group of investors promote a stock they purchased at a low price. They manipulate the share price and drive it higher to book significant gains. The stock is generally promoted a "hot tip" or "the next big thing."
Here's what the Wolf himself had to say…
The fraudulent investors will state that an upcoming announcement will send the share price "through the roof." There are several ways to manipulate share prices and these have changed over the years.
The basic idea of a pump and dump scam is to shift supply and demand dynamics. This is done via SMS messaging, email campaigns, online media channels or a fake press release. There are claims to insider information and impending news as stated above.
Again, here's how the Wolf does it in the Hollywood blockbuster.
If an investor is successful in "pumping"  the price of the stock, it will create a sense of euphoria among potential buyers. The increase in stock price and trading volume may convince other retail players to believe in the hype and purchase its shares.
Penny stock are generally targeted in this scam
The pump and dump scheme is tied to penny stocks as it is almost impossible to do so with large-cap stocks or even popular mid-cap and small cap companies. This ploy is used to inflate prices of companies with a small trading volume that are traded over the counter. The stock is then sold for a handsome profit once the price rise has formulated.
Who are impacted in these scams?
More often than not, it is the average retail investor who is a victim of this scam. Retail investors aren't aware of every market dynamic and are inviting prey.
The lure of fast and easy money is difficult to ignore. Even if the retail investors who are a victim of this scam try to sell off the stocks at a significant loss, they might be unable to do so due to a lack of buyers on the OTC markets.
Recent pump-and-dumps. (Yes, we're talking crypto.)
The unregulated crypto market has seen several pump and dump scams where investors have burned significant wealth. They need to be wary of a stock tip from someone unknown to them and think why that party would be so willing to give out insider information.
Though there are stock market regulators, such as the SEC, it is difficult to keep an eagle eye on every stock trading on the exchange or over the counter. For whatever it's worth, as far as crypto goes, even Belfort—the Wolf man himself—says crypto is similar to what he used to peddle.
Jordan Belfort's Bitcoin Warning

Jordan Belfort – Wolf of Wall Street — "I've never invested in cryptocurrency, ever, not once, and I never will."Check out Jordan's new book — http://amzn.to/2GXzgegbelfortnyc.com

Posted by BoldTV on Wednesday, February 7, 2018
How Big Real Estate Moguls Avoid Taxes (And How You Can, Too) 👀
I was looking around Google for an old article on tax strategies and this five-year old video of myself happened to pop up.
I'm interviewing a tax expert about how real estate investors avoid paying taxes in perpetuity—AND how everyday citizens can do the same thing.
(Real estate—our TEMPLE I and TEMPLE II projects included—has a number of tax benefits savvy investors have capitalized on for years, including Opportunity Zone breaks and 10-year tax abatements.)
There's the 1031 exchange, of course, which I've shared with you guys before.
Just to refresh your memory, the 1031 Exchange allows you to roll over gains from your last project into a new property TAX FREE—as long as said property is worth the same or more.
But there's ANOTHER TAX LOOPHOLE that can take your portfolio to an entirely new level by splitting your capital gains into MULTIPLE properties.
So I thought I'd share it with you guys. 💎
You can check it out here.
Let me know what you think. 😎
PS: In our next update, I'm going to break down how real estate moguls get paid from their properties…tax free. 👀
PPS: If you want to learn how to implement generational wealth strategies like this one, you can join our NYCE wealth academy (TRIBE U) here.
How I run a $300M+ business from the beach…(and how you can TOO!)
Yes, you read that right.
If there's anything the pandemic taught us, it's that the paradigm of "office" and "workspace" has been shaken to its CORE.
Universities are teaching via Zoom, court dates are done virtually, FULLY REMOTE businesses are valued at $1B+, and legitimate Inc. 5000 startups are run from…wherever. 📲
This is my office for the day…
I am actually running our business from the beach, typing this from here.
It's 4:28 pm CET, which means it's 10:28 am EST and I am CRUSHING my to-do list.
(And the team will continue to crush it while I'm asleep. That's the 🗝)
So how did we get here? 
We launched NYCE and our mission to create 100,000 millionaires in March, 2020…just as the global COVID-19 lockdown happened. 😳
As a result, we shut down our main office and set EVERYTHING up to run remotely…
SMOOTHLY! And a system that allows us to outperform competition by 200%. (You can build this system, too. More on this in a second.)
Here's what we were able to do since then:
Gained 6M+ followers across all platforms 📈
Add 1500+ new apartments to the portfolio 🤑
Grow to $300M in real estate 🚀
105% investor returns 🎉
700K+ community members 🤝
And here's the best part…
Having team members in all the main time zones gives us a 24-hour work cycle vs. 9-5/eight-hour on-the-clock performance.
This means we get 3x the productivity of a similar company. 🔥
Let me repeat that…3x PRODUCTIVITY vs. our competitors.
Meanwhile our project management software grants us 24-hour TEAM-WIDE connectivity that tracks all tasks and lets us know if productivity dips even a little bit.
There is ALWAYS someone senior awake. It could be Martin in Barcelona…Nat in New York…Vineet & Arif in New Delhi.
All the while giving YOU GUYS wealth hacks and daily content. 🔥
OK, so how can you do it?!
Well, the first step is to have an actual side hustle you're launching. Not just an idea, a validated business.
MAJOR KEY: Do NOT spend money until you've made your FIRST DOLLAR! 🗝🗝🗝🗝
(You can catch a replay Business Launch masterclass here and see TRIBE member Nessa launched her business on the spot and got her first $45K client shortly after.)
One of the easiest ways to start is with Airbnb—you can start that in 10 minutes. Literally. (Here's a guide if you need it.)
Once you have your business, you build a virtual infrastructure (you really just need two softwares, which are FREE), manage the team accordingly and run the business from there.
I'm gonna put together a step-by-step video breakdown this weekend inside the new TRIBE U on the FIVE key things you need to do this for YOURSELF. 💵 💎
From what software to use, how to build a team, how to keep.
In the meantime, drop a comment if you're ready to build some wealth and any questions if you want more…
Let's get to work. 🙌
PS: If you can't be bothered with video and just wanna get to work, we're hosting a TRIBE U workshop that will help you get this process started on the spot. It's $479 $49. 🔥
CHART: How Blockchain Powers Bitcoin
Blockchain, Bitcoin. Bitcoin, blockchain.
The two terms go hand in hand—and have become almost ubiquitous with this year's insane rise (and fall) of Bitcoin.
But what does it all really mean? How does it come together? In this week's chart, our friends at CB Insights break down exactly how blockchain powers Bitcoin.
Warning
: count(): Parameter must be an array or an object that implements Countable in
/homepages/28/d742565295/htdocs/clickandbuilds/WealthLab/wp-content/themes/zox-news-child/single.php
on line
683
You've reached your free article limit.
Continue reading by subscribing.
Already a subsciber? Login >
Go back to Homepage >