What Landed The Wolf Of Wall Street In Prison: 'Pump And Dump Schemes,' Explained
If you've read about stocks, you've probably come across it: the infamous "pump and dump scheme." Pump and dump is a form of securities fraud that artificially hypes and inflates a stock with false and misleading statements. In fact, the pump and dump is the exact scheme that put the 'The Wolf of Wall Street' Jordan Belfort in prison.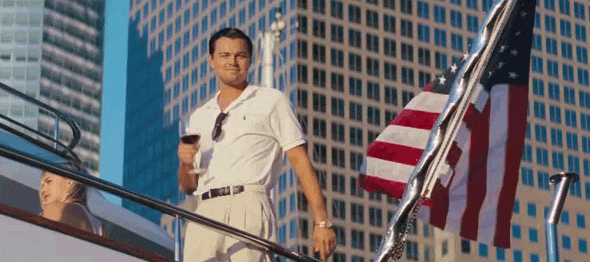 So how does it work? Fret not, #WealthGang, we're here to help.
How it works…
Here an investor or a group of investors promote a stock they purchased at a low price. They manipulate the share price and drive it higher to book significant gains. The stock is generally promoted a "hot tip" or "the next big thing."
Here's what the Wolf himself had to say…
The fraudulent investors will state that an upcoming announcement will send the share price "through the roof." There are several ways to manipulate share prices and these have changed over the years.
The basic idea of a pump and dump scam is to shift supply and demand dynamics. This is done via SMS messaging, email campaigns, online media channels or a fake press release. There are claims to insider information and impending news as stated above.
Again, here's how the Wolf does it in the Hollywood blockbuster.
If an investor is successful in "pumping"  the price of the stock, it will create a sense of euphoria among potential buyers. The increase in stock price and trading volume may convince other retail players to believe in the hype and purchase its shares.
Penny stock are generally targeted in this scam
The pump and dump scheme is tied to penny stocks as it is almost impossible to do so with large-cap stocks or even popular mid-cap and small cap companies. This ploy is used to inflate prices of companies with a small trading volume that are traded over the counter. The stock is then sold for a handsome profit once the price rise has formulated.
Who are impacted in these scams?
More often than not, it is the average retail investor who is a victim of this scam. Retail investors aren't aware of every market dynamic and are inviting prey.
The lure of fast and easy money is difficult to ignore. Even if the retail investors who are a victim of this scam try to sell off the stocks at a significant loss, they might be unable to do so due to a lack of buyers on the OTC markets.
Recent pump-and-dumps. (Yes, we're talking crypto.)
The unregulated crypto market has seen several pump and dump scams where investors have burned significant wealth. They need to be wary of a stock tip from someone unknown to them and think why that party would be so willing to give out insider information.
Though there are stock market regulators, such as the SEC, it is difficult to keep an eagle eye on every stock trading on the exchange or over the counter. For whatever it's worth, as far as crypto goes, even Belfort—the Wolf man himself—says crypto is similar to what he used to peddle.
Jordan Belfort's Bitcoin Warning

Jordan Belfort – Wolf of Wall Street — "I've never invested in cryptocurrency, ever, not once, and I never will."Check out Jordan's new book — http://amzn.to/2GXzgegbelfortnyc.com

Posted by BoldTV on Wednesday, February 7, 2018
CHART: How Blockchain Powers Bitcoin
Blockchain, Bitcoin. Bitcoin, blockchain.
The two terms go hand in hand—and have become almost ubiquitous with this year's insane rise (and fall) of Bitcoin.
But what does it all really mean? How does it come together? In this week's chart, our friends at CB Insights break down exactly how blockchain powers Bitcoin.
This Mogul Became America's 1st Black Billion-Dollar Businesswoman
Sheila Johnson.
Where to start?
She's the first black billion-dollar businesswoman. Before Oprah Winfrey.
She started as a TV executive, founding Black Entertainment Television (BET), the first TV network targeting African Americans. She then became a real estate mogul.
Oh, she also owns a stake in three major sports franchises, the NBA Wizards, NHL Capitals and the WNBA Mystics, the African American, period, to boast that claim.
In honor of Black History Month, let's dive into her remarkable career.
FAST FACTS:
Born Sheila Crump in McKeesport, Pennsylvania, Johnson co-founded BET in 1979 with then-husband Robert Johnson. The couple sold it to Viacom in 2000 for $2.9B
Sheila Crump Johnson became the first African American woman on the Forbes' Billionaire list in 2000—beating Oprah Winfrey to the distinction.
Per Forbes, Johnson has an $820M net worth as of 2019
Foray into real estate…
After closing the sale to Viacom, Robert and Sheila pocketed around $1.5B each. Johnson used that windfall as seed money to build a hospitality real estate empire in 2005.
"There's a disparity in paychecks between whites and blacks," she told the Wall Street Journal. "I will never forget that."
As CEO of Salamander Hotels and Resorts, Sheila controls a spectacular portfolio of six luxury hotels in Florida, Virginia and South Carolina. And she's built it from the ground up—literally—in her own spirit.
"I've been to many hotels, not only in the US, but all over the world," she told Forbes last year. "And I wanted to find something that was going to really make Salamander stand out beyond all of these hotels."
So what does that mean?
"You have to understand, there are a lot of people, investment companies, with very deep pockets," she says. "They can do it, but they don't have the experiences that we're able to bring. I am constantly trying to find a way to help Salamander Resort & Spa stand out head over heels above any other hotel — not only in the area, but in the nation.
"I want them to leave that resort wanting to come back and not just say, 'I'll be back in six months.' I want them to come back all the time."
And so far it's worked. In fact, on Forbes Travel Guide's 61st list of Star-Rated hotels, Johnson's Salamander Resort & Spa outside of Washington, DC earned a Five-Star distinction.
Forbes: "Everything [she] touches turns to gold."
That's a real quote. From Forbes. Last year. It's also true.
BET? Billion-dollar exit. Washington Capitals? Stanley Cup.
And Roma. Won 10 Oscars. Who showed it before a single soul started caring? Johnson's Middleburg Film Festival. (Which, by the way, has 32 films and counting in Academy Award contention.)
Remember her golf resort at Innisbrook? Oh, yeah. Hosts the Valspar Championship, one of the PGA calendar's most-anticipated tournaments.
Becoming a billionaire comes with a new level of clout as well. "When you don't have money, you're not invited to special events; you really don't matter," she told WSJ. "It's a society thing."
So instead, she's turned to giving back. Her Sheila Johnson Fellowship's paid for more then 40 scholarships at Harvard University for students who otherwise wouldn't afford to attend.
Breaking glass ceilings. 
There's an alarming statistic in business and diversity—especially as it pertains to women. According to research by investor Richard Kerby, 18% of all VCs are women—and only 3% are black. In addition, less than 50 black women ever have raised $1M in funding.
"When I got started," Johnson says, "I couldn't get a loan. I had to use my own money to get Salamander Resort and Spa."
She explained to WSJ last year that men can go to any bank with a bank proposal. And no matter how "wacky" the idea is, she said, "they're going to get the financing. Women do not have that ability."
Johnson's taken it upon herself to do something about that, becoming one of the founding partners of WE Capital, an investment firm that invests in female entrepreneurs.
"I started out in a very unique position where I had my own capital to be able to get started," she says. "But there have got to be banks and investors that believe in helping women who want to be entrepreneurs in the hospitality business.
"And it's just really, really important that they really take a look at this."
VIDEO: How Far Does $150K A Year Get You In New York City?
No matter what metric or list you look at, it goes without saying: New York City is one of the most expensive places in the world to live in.
In this video, CNBC spoke to a Millennial who runs her own brand consulting agency and wants to #WealthHACK her way to retirement by 40.
She makes $150K a year. But how far does that actually get her? Check it out.
You've reached your free article limit.
Continue reading by subscribing.
Already a subsciber? Login >
Go back to Homepage >