What Landed The Wolf Of Wall Street In Prison: 'Pump And Dump Schemes,' Explained
If you've read about stocks, you've probably come across it: the infamous "pump and dump scheme." Pump and dump is a form of securities fraud that artificially hypes and inflates a stock with false and misleading statements. In fact, the pump and dump is the exact scheme that put the 'The Wolf of Wall Street' Jordan Belfort in prison.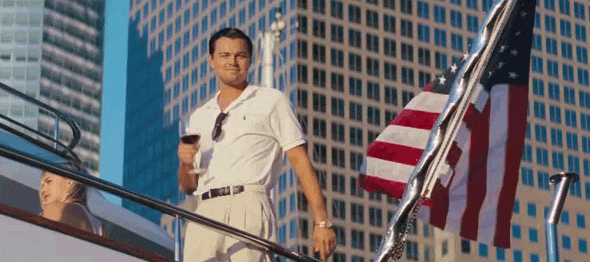 So how does it work? Fret not, #WealthGang, we're here to help.
How it works…
Here an investor or a group of investors promote a stock they purchased at a low price. They manipulate the share price and drive it higher to book significant gains. The stock is generally promoted a "hot tip" or "the next big thing."
Here's what the Wolf himself had to say…
The fraudulent investors will state that an upcoming announcement will send the share price "through the roof." There are several ways to manipulate share prices and these have changed over the years.
The basic idea of a pump and dump scam is to shift supply and demand dynamics. This is done via SMS messaging, email campaigns, online media channels or a fake press release. There are claims to insider information and impending news as stated above.
Again, here's how the Wolf does it in the Hollywood blockbuster.
If an investor is successful in "pumping"  the price of the stock, it will create a sense of euphoria among potential buyers. The increase in stock price and trading volume may convince other retail players to believe in the hype and purchase its shares.
Penny stock are generally targeted in this scam
The pump and dump scheme is tied to penny stocks as it is almost impossible to do so with large-cap stocks or even popular mid-cap and small cap companies. This ploy is used to inflate prices of companies with a small trading volume that are traded over the counter. The stock is then sold for a handsome profit once the price rise has formulated.
Who are impacted in these scams?
More often than not, it is the average retail investor who is a victim of this scam. Retail investors aren't aware of every market dynamic and are inviting prey.
The lure of fast and easy money is difficult to ignore. Even if the retail investors who are a victim of this scam try to sell off the stocks at a significant loss, they might be unable to do so due to a lack of buyers on the OTC markets.
Recent pump-and-dumps. (Yes, we're talking crypto.)
The unregulated crypto market has seen several pump and dump scams where investors have burned significant wealth. They need to be wary of a stock tip from someone unknown to them and think why that party would be so willing to give out insider information.
Though there are stock market regulators, such as the SEC, it is difficult to keep an eagle eye on every stock trading on the exchange or over the counter. For whatever it's worth, as far as crypto goes, even Belfort—the Wolf man himself—says crypto is similar to what he used to peddle.
Jordan Belfort's Bitcoin Warning

Jordan Belfort – Wolf of Wall Street — "I've never invested in cryptocurrency, ever, not once, and I never will."Check out Jordan's new book — http://amzn.to/2GXzgegbelfortnyc.com

Posted by BoldTV on Wednesday, February 7, 2018
INFOGRAPHIC: How To Invest Your Money (In 8 Simple Steps)
Plenty of savers are making do with low rates of return on their deposits—almost eroding the value of their savings. Here's a guide on how you should invest your money and gain some great returns off it.
Stock Trading: How to Choose the Best Online Brokers
Stock trading can be a risky business but done right it is an extremely lucrative investment option which yields excellent returns. It is true that trading is quite intimidating for someone who is new to the market and its ways which gives rise to the need for a good stock broker who can handle the job and ensure that the client gets the best returns possible for the money he or she is investing. But as a new investor it is absolutely important that you choose a very good trading broker. Here are some tips that will help you make that choice better.
Understand your trading needs
Before you even look into the services of a trading broker, it is essential that you are aware of your goals and needs from your stock trading. Firstly, prioritise your investment value, short term and long-term goal, and time that you are willing to spend on your trading in order to figure out where you stand. Now, narrow down on the specific kinds of stock exchange that you are looking into. With the wide variety of options available that you can choose from, it is important to narrow down to the specific field or fields and finally look for brokers who suit your specific needs.
Have a clear talk about trading fees
It is important to have a clear-cut discussion on brokerage fee and commissions that your broker will charge you. Ask about the charges per transaction, basic account charges, account minimums and even reimbursements if and when you choose to part ways so that you can have a proper idea about how much you are about to fork out for your trading. It is a good idea to have the talk beforehand so that you do not get into an arrangement which later becomes financially burdensome for you.
Look up reviews on the broker
You would not buy a new product without checking what its previous users have to say, right? Similarly, look up your prospective brokers No matter how promising or lucrative a broker seems with the terms, make sure you check the reviews by InvestinGoal to ensure that you are actually getting a good deal and not being sweet talked into not a good broker or even worse, being conned of your money.
Ask your questions
Do not be afraid to ask whatever questions that come to your mind before you make a deal. This will help you understand your trading better and thus, to get the absolute best out of your investment. It will also help you uncover any hidden charges, non transparent clauses as well that might have later hindered the desirable growth of your stock.
Give a test run
Ask the broker if you can give a test run of your account, and his technology before you actually invest your hard earned money. Many brokers allow you to create a free account which you can use to test their platform and check out user friendliness, ease of trading, quality of tools etc and thus, make an educated decision.
Getting the right broker is definitely one step towards a good stock trading investment. Therefore, it is very important that you take utmost care in picking the very best broker for your trading needs.
This article originally appeared on ValueWalk. Follow ValueWalk on Twitter, Instagram and Facebook.
3 Simple Steps To Build Your Investment Portfolio
If you're starting out with planning your investments, chalking out your goals and how you'd like to achieve them is incredibly important. You'll need to understand what kind of assets you'd like to invest in–be it exotic instruments like private equity or the tried and tested ones like the treasury bonds, ETFs and stocks–and invest right. Here are three key strategies to build your portfolio:
1. Building Wealth Is All About Thinking Rationally (And Smart)
Having the right mindset can play a huge role in how you build your investments. It's simply not just about strategy. To ditch following the latest fad in the market, you need to be responsible and have a sense of social indifference–coupled with confidence and patience.
2. Invest Like A Cheapskate
If you're pumping in $150,000 as investment, on which you incur 1% as fees, look out for ways through which you can cut them down.
If you were to cut costs by a little more than a half, that's saving you at least $1,120 in fees every year. But that's not it–when this saving is compounded every year, that 1% fee can tally up to a million (if saved, could win you your big ticket to becoming a millionaire!)
3. The KISS (Keep It Simple, Silly) Rule
Funnily enough, most of us think investing your way through millions demands extensive knowledge of financial instruments or strategies. Surprisingly, it's the simplest of assets that gave the biggest investors their biggest wins. Many successful investors highlight their success to stocks, bonds and other popular alternative investments, patiently held over time.