What Landed The Wolf Of Wall Street In Prison: 'Pump And Dump Schemes,' Explained
If you've read about stocks, you've probably come across it: the infamous "pump and dump scheme." Pump and dump is a form of securities fraud that artificially hypes and inflates a stock with false and misleading statements. In fact, the pump and dump is the exact scheme that put the 'The Wolf of Wall Street' Jordan Belfort in prison.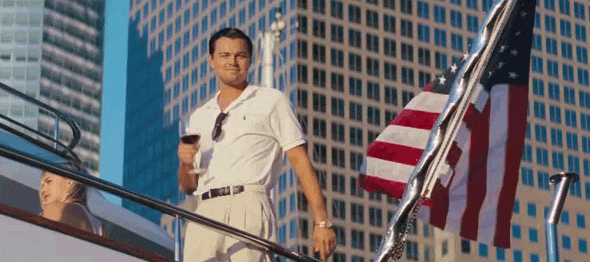 So how does it work? Fret not, #WealthGang, we're here to help.
How it works…
Here an investor or a group of investors promote a stock they purchased at a low price. They manipulate the share price and drive it higher to book significant gains. The stock is generally promoted a "hot tip" or "the next big thing."
Here's what the Wolf himself had to say…
The fraudulent investors will state that an upcoming announcement will send the share price "through the roof." There are several ways to manipulate share prices and these have changed over the years.
The basic idea of a pump and dump scam is to shift supply and demand dynamics. This is done via SMS messaging, email campaigns, online media channels or a fake press release. There are claims to insider information and impending news as stated above.
Again, here's how the Wolf does it in the Hollywood blockbuster.
If an investor is successful in "pumping"  the price of the stock, it will create a sense of euphoria among potential buyers. The increase in stock price and trading volume may convince other retail players to believe in the hype and purchase its shares.
Penny stock are generally targeted in this scam
The pump and dump scheme is tied to penny stocks as it is almost impossible to do so with large-cap stocks or even popular mid-cap and small cap companies. This ploy is used to inflate prices of companies with a small trading volume that are traded over the counter. The stock is then sold for a handsome profit once the price rise has formulated.
Who are impacted in these scams?
More often than not, it is the average retail investor who is a victim of this scam. Retail investors aren't aware of every market dynamic and are inviting prey.
The lure of fast and easy money is difficult to ignore. Even if the retail investors who are a victim of this scam try to sell off the stocks at a significant loss, they might be unable to do so due to a lack of buyers on the OTC markets.
Recent pump-and-dumps. (Yes, we're talking crypto.)
The unregulated crypto market has seen several pump and dump scams where investors have burned significant wealth. They need to be wary of a stock tip from someone unknown to them and think why that party would be so willing to give out insider information.
Though there are stock market regulators, such as the SEC, it is difficult to keep an eagle eye on every stock trading on the exchange or over the counter. For whatever it's worth, as far as crypto goes, even Belfort—the Wolf man himself—says crypto is similar to what he used to peddle.
Jordan Belfort's Bitcoin Warning

Jordan Belfort – Wolf of Wall Street — "I've never invested in cryptocurrency, ever, not once, and I never will."Check out Jordan's new book — http://amzn.to/2GXzgegbelfortnyc.com

Posted by BoldTV on Wednesday, February 7, 2018
Video: Compound Interest, Explained
3 Ways To Invest From Your Smartphone For Under $5
The numbers say 80% of millennials don't invest in stocks.
Reason? Half say they don't have money, one-third says it's too early and another third says they don't know how.
In addition to that, there's demographic gap. "The average age of a financial advisor is 55," said Douglas Boneparth, a New York City-based financial planner. "There are more financial advisors over the age of 70 than there are under 30."
Despite these beliefs, you don't really need much money, nor experience, to get started. (Just look at our fearless co-founder Odunayo Eweniyi and what she's pulled off here)
Be that as it may, here are three ways to get started for $5 or less.
1. Stash
What: A micro-investment app (iOS and Android) with over 30 ETFs according to industry, sector and risk tolerance.
How it works: Download the app and choose your investment.
Minimum investment: $5
Cost: Fees range from $1 a month for accounts under $5,000 to 0.25% a year.
"We help people who don't have a lot save money on a weekly basis," CEO and co-founder Brandon Krieg said in one interview. "Stashers look like America, they look like people you meet every day: they are nurses and teachers and Uber and Lyft drivers."
2. Acorns
What: iOS and Android app.
How it works: Download the app and choose one of six index funds. When you buy, say a cup of coffee for $1.75, it rounds up the change to $2 and deposits the difference.
Minimum investment: $5
Cost: Just like Stash, fees range from $1 a month for accounts under $5,000 to 0.25% a year.
"We're not trying to preach austerity to the client, because that's a bummer," CMO Manning Field says. "Some people will say, 'Don't have the cup of coffee.' We'll tell you to have the cup of coffee and invest along the way."
3. Robinhood
What: A commission-free investment app (iOS and Android).
How it works: Download and start buying stocks.
Minimum investment: Whatever stock you want to buy.
Cost: Free.
And by the way, if you want to get a fast start on real estate, here's Forbes' list of nine REITs with yields between 8% and 10%.
CHART: How Blockchain Powers Bitcoin
Blockchain, Bitcoin. Bitcoin, blockchain.
The two terms go hand in hand—and have become almost ubiquitous with this year's insane rise (and fall) of Bitcoin.
But what does it all really mean? How does it come together? In this week's chart, our friends at CB Insights break down exactly how blockchain powers Bitcoin.