Facebook Stock Jumps $28B After Q1 Earning Report
Remember when Facebook first IPO'd and its shares were struggling like SNAP? So Facebook's stock is turning all the way up.
News just hit that Facebook stock jumped more than 6% in after hours trading—good for a $28B and change jump in valuation—after reporting better-than-expected revenue expectations.
And this happened even though Facebook said it could take a one-time charge of as much $5B because of an ongoing Federal Trade Commission inquiry.
In addition to beating its revenue goals, it also matched its projections for daily active user growth. (Who says Facebook is losing its cool factor?!)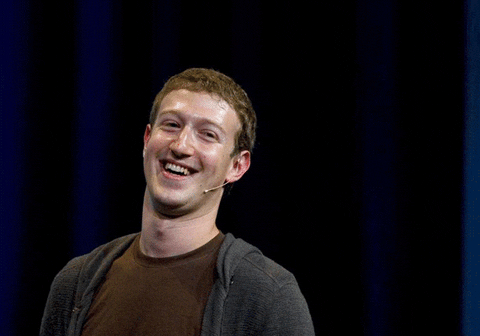 Earnings: 85 cents per share
Revenue: $15.08B, vs. $14.98B, forecast by Refinitiv
Daily active users: 1.56B, vs. 1.56B forecast by FactSet
Monthly active users: 2.38B, vs. 2.37B forecast by FactSet
Average revenue per user: $6.42, vs. $6.39 forecast by FactSet
The company said it counts 2.7B monthly users across its family of apps (Instagram, Whatsapp and so on).
Facebook's user base in Europe grew to 286M daily active users during Q1—up from 282M last quarter. It's North American user base remained flat quarter-to-quarter, however, at 186M.
Zuck says…
"We had a good quarter and our business and community continue to grow," said CEO Mark Zuckerberg in a statement. "We are focused on building out our privacy-focused vision for the future of social networking, and working collaboratively to address important issues around the internet."
INFOGRAPHIC: What You Can Learn From Super Investor Warren Buffett
With a net worth that crosses a whopping $84B, it's hard to question Warren Buffett's investment moves.
Here's how he grew $120 to a massive investment empire, worth tens of billions.
[VIDEO] Tony Robbins: Here's How To Invest Before You're 30
As a millennial in today's consumer-driven world, budgeting and managing your paychecks can be tricky.
Thinking like a consumer and not the owner of the product can prove to be a big difference to building your investments. Instead of owning the latest Apple device, you've got to target owning a part of Apple, and this simple move can be the first step towards becoming a better manager of your wealth.
Here are two incredibly important money habits to foster that millionaire author Tony Robbins banks on (and you cannot afford to miss them).
BREAKING: WealthLAB Co-Founder Makes Forbes 30 Under 30 List
Forbes Africa just unveiled its fifth annual "30 under 30" list, highlighting the top young entrepreneurs, innovators and gamechangers.
And guess what: WealthLAB co-founder Odunayo Eweniyi is on it. See the full Forbes list here.
Alongside co-founders Joshua Chibueze, 26, and Somto Ifezue, 28, Odunayo built PiggyVest, a fintech app that's helped over 230,000 African Millennials invest and save over $15M. 
"PiggyVest was born out of the need to help people create a sustainable means of saving," Odunayo told Forbes. PiggyVest users currently earn 10-13% on savings.
Just last May, PiggyVest—then known as Piggybank—closed a seed round, raising $1.1M. In doing so, Odunayo became one of under 30 Black women to raise over $1M in startup capital.
While the app started as a digital piggy bank for savers, Odunayo told TechCrunch the goal was to become a "financial warehouse" where other financial providers "can plug in their services for [PiggyVest] users."
That vision recently came to life with the launch a new investment feature called "Investify," which pays around 25% depending on the investment opportunity.
These investments will range from classic guaranteed fixed income opportunities (TBills, bonds, commercial papers, etc) to unconventional opportunities in real estate, agriculture, and transportation.
Minimum amount you can invest will vary by investment opportunities.

— PiggyVest (@PiggyBankNG) April 30, 2019
The Forbes distinction comes on the heels of an impressive recent run of awards for the young entrepreneur.
In March, Odunayo earned an award from Forbes as one of the top young "wealth creators" in Africa. Shortly after, Odunayo was named 2019 SME Entrepreneur of the Year in Wealth and Society in West Africa.
Prior to founding PiggyVest, Odunayo co-founded PushCV, the largest job database in Africa.
"I've always wanted to make an impact. I didn't know how I would do it, but i felt a compulsion to."Odunayo told Black Enterprise in a recent interview.
In addition to PiggyVest, Odunayo's co-founded WealthLAB (yes, this WealthLAB) with NYC-based investor-entrepreneur Philip Michael. The two also invest in women —and minority run startups in the US.
Forbes Africa named 120 entrepreneurs across four categories: trade, technology, innovation, and sport. "I'm honored but I'm just ready to work," Odunayo said when asked about the award. "I'm already thinking about what's next."
Well, alright then. Hit her up and congratulate her on IG here!