Apple's iPads Shed Over 60% In Value In Less Than A Year
With the new iPad Pro 11 being released soon, tech buy-back sites reveal that iPad depreciation is significant. They have found that within just a year, Apple's iPads can lose as much as 60% of their original price.
"With the new iPad Pro 11 announced at Apple's hardware event, it is really interesting to look at these depreciation figures in depth," said Liam Howley, CMO for Decluttr, a tech buy-back site.
It's worth noting that the new iPad Pro 12.9 WiFi model with 256GB has only lost 53% of its value in 12 months. Compare that to the 4G version, which had lost 60% within the same period.
"After today's announcement, and so far with the positive response that the new iPad Pro has had, we expect trade-ins of the older versions to increase dramatically as consumers are looking to upgrade," Liam continues. "The best time to trade-in a device is before the new one is available to purchase as consumers can get between 25% to 30% more for their device, so this week and next will be crucial for those who are wanting to get the best price for their old iPads."
Making more for your device on the cusp of the latest generation being released is a common theme with Apple products.
Much like the iPad, the iPhone is worth more in the weeks leading up to the mainstay September Keynote, than it is after the latest generation device has been unveiled.
Earlier this year, Decluttr found that the newer generation of iPhones – such as the iPhone 8 and the iPhone X – were depreciating at a much slower rate than their predecessors.
In the space of a year, the iPhone X was able to hold on to more than 60% of its value, which was the slowest depreciating iPhone ever launched, prior to the iPhone Xs, iPhone Xs Max and iPhone XR being announced in Cupertino this September.
For those who are looking to trade-in their Apple iPads, customers can expect to get up to $420 for a device in good condition.
This would mean that the cost of buying a new iPad Pro 11 -inch model, which is expected to retail at $799, would be reduced to just $379.
FAANGs Lose Over $135B Overnight
The stock market was in a sea of red yesterday. The broader markets witnessed yet another correction. Stocks such as Facebook [FB], Apple [AAPL], Amazon [AMZN], Netflix [NFLX] and Google [GOOG], also known as FAANGs led the sell-off yesterday.
FAANGs lost over $135B in market value overnight. Analysts have raised concerns over Apple's iPhone unit shipments. Several of them have cut iPhone shipment estimates and this has driven Apple shares lower.
Apple's market cap has fallen from a high $1.1T to its current value of $882B. During its last earnings call, Apple had also stated that it will no longer provide data for device sales further adding fuel to fire.
Facebook trades at a two-year low
Facebook shares continue to burn investor money. Shares are down 13% this month and 20% since Oct. 2018. Facebook shares have impacted after an investigative report by New York Times accused the former of promoting anti-Semitic conspiracy theories.
Amazon shares fell declined over 5% yesterday. The stock faced the wrath of investors as it missed revenue forecasts last month. Netflix, on the other hand, has slumped over the last few months as there are concerns over the company's international expansion efforts.
Have FAANG's bottomed out?
FAANGs drove the markets for several years and generated spectacular returns for investors. A focus on developing innovative products and services have ensured market leadership for FAANGs.
However, since Oct. 18, these shares have declined significantly. FAANGs have lost a whopping $700B in market cap over the last 50 days. Does this mean that FAANGs have bottomed out and are trading at attractive valuations?
It's too early to tell. We have seen that concerns over iPhone device sales, Facebook controversies, and decelerating growth for Amazon and Netflix have weighed in on stocks. Investors are now paying attention to fundamentals in an uncertain macro environment driven by rising interest rates and the trade wars between China and the United States.
Does this mean that the party is over? Certainly not! These companies are leaders in innovation and are expected to launch products and services that will help them maintain revenue growth in the near future.
Analysts estimates
Analysts though are still bullish on FAANGs. They have a 12-month target price of $233.47 for Apple, implying an upside potential of 26%. Similarly, shares of Facebook, Amazon, Netflix, and Google are trading 50%, 41%, 48%, and 32% respectively below their target price estimates.
3 Ways To Invest From Your Smartphone For Under $5
The numbers say 80% of Millennials don't invest in stocks.
Reason? Half say they don't have money, one-third says it's for "old white men," another third says they don't know how.
In addition to that, there's demographic gap. "The average age of a financial advisor is 55,"Douglas Boneparth, a New York City-based financial planner last year. "There are more financial advisors over the age of 70 than there are under 30."
Despite these beliefs, you don't really need much money, nor experience, to get started. (Just look at our fearless co-founder Odunayo Eweniyi and what she's pulled off here…)
Be that as it may, here are three ways to get started for $5 or less.
1. Stash
What: A micro-investment app (iOS and Android) with over 30 ETFs according to industry, sector and risk tolerance.
How it works: Download the app and choose your investment.
Minimum investment: $5
Cost: Fees range from $1 a month for accounts under $5,000 to 0.25% a year.
"We help people who don't have a lot save money on a weekly basis," CEO and co-founder Brandon Krieg said in one interview. "Stashers look like America, they look like people you meet every day: they are nurses and teachers and Uber and Lyft drivers."
2. Acorns
What: iOS and Android app.
How it works: Download the app and choose one of six index funds. When you buy, say a cup of coffee for $1.75, it rounds up the change to $2 and deposits the difference.
Minimum investment: $5
Cost: Just like Stash, fees range from $1 a month for accounts under $5,000 to 0.25% a year.
"We're not trying to preach austerity to the client, because that's a bummer," CMO Manning Field says. "Some people will say, 'Don't have the cup of coffee.' We'll tell you to have the cup of coffee and invest along the way."
3. Robinhood
What: A commission-free investment app (iOS and Android).
How it works: Download and start buying stocks.
Minimum investment: Whatever stock you want to buy.
Cost: Free.
And by the way, if you want to get a fast start on real estate, here's Forbes' list of nine REITs with yields between 8% and 10%.
Analyst: 'Bitcoin Just Collapsed Like A House Of Cards…'
Oh, how the mighty have fallen.
Ever since their mighty peak back in December, Bitcoin has seen a consistent plunge all year long, briefly dropping under $5k a coin today.
"Bitcoin collapsed like a house of cards on Monday," Lukman Otunuga, research analyst at FXTM, wrote Business Insider in an email.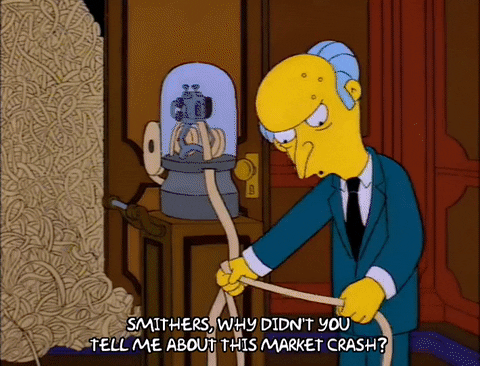 In fact, today's drop continues a filthy week for Bitcoin, which has now dropped to a low not seen since December, right before the wicked explosion in prices that had Bitcoin as high as $20k per coin.
Once that happened, Bitcoin basically went mainstream, with "Blockchain" and "cryptocurrency" becoming words du jour. And once that happened, it basically created a frenzy around cryptos.
Just peep this. It's not even a hockey chart, it's just insanity.
Aaaaaand, here's another showing the raucous trading activity back in December 2017.
All in all, Bitcoin lost 12% of its value in the past week and nearly 20% in the last three months.
For whatever it's worth, it's not just Bitcoin that's taking a beating; other cryptos are getting slammed as well. Both Litecoin ($5.10 per coin) and Ethereum ($156/coin) are down 12%.
So, who else is bullish on crypto?!