Penny stocks are equity investments that are traded outside major stock exchanges. These stocks are traded at low prices and have a small market cap. As penny stocks are illiquid and highly speculative, they carry a high risk of investment.
The US Securities and Exchange Commission (SEC) defines penny stocks as shares with a value of less than $5. Typically, a penny stock is traded over the counter or by using pink sheets.
Despite the high risks of investment, penny stocks can be a lucrative form of investment because of its low price and higher prospects of return.
Here we look at 5 penny stocks that are very promising.
1. Neptune Technologies & Bioresources Inc [NEPT]
Neptune Technologies and Bioresources Inc is a Canada based wellness solutions provider. It offers nutraceutical products or standardized nutrients of a pharmaceutical grade.
MaxSimil is a patented ingredient and one of the premium products offered by Neptune. Other products include marine oils, seed oils, as well as oil extracted from legal cannabis.
Neptune also offers pet nutritional products.
In 2016, Neptune acquired Biodroga, a privately owned business solution provider for functional ingredients. Since April 2017, Neptune has become a licensed producer of Cannabis and Hemp Oil in Canada.
The monstrous growth in cannabis will hold NEPT in good stead. Analysts expect sales to rise 37% year-over-year to $39M in 2019.
Market Cap: $316M
Year-to-Date Return: 70%
Earnings Growth: 66.7%
2. Glu Mobile Inc. [GLUU]
Gaming has become one of the popular modes of entertainment. Glu Mobile is a game development company targeting mobile phones and smart gadgets.
The brand has already come up with multiple action games as well as mobile versions of console and arcade games. One of the popular role-playing games "Kim Kardashian: Hollywood" released by this company features the life of a reality TV celebrity. Glu Mobile Inc. primarily targets the female audience and over 60% of its games are female-centric.
What's more, most of the games developed and launched by this company are free and can be downloaded from the Google Play Store [GOOG] or the iOS App Store [AAPL].
The primary source of revenue is from the in-app purchases.
Glu Mobile has benefited immensely from the exponential growth of mobile gaming. With the global gaming industry set to experience robust sales over the next few years, Glu Mobile might be on the radar of several investors and analysts.
Analysts expect the company's revenue to rise by 18% this year and 12.3% in 2019.
Market Cap: $1B
Year-to-Date Return: 103%
Earnings Growth: 40%
3. Arotech Corporation [ARTX]
Arotech Corporation is a successful mixture of modern technological innovations for federal use. There are two primary divisions of Arotech. One is the Training & Simulation department while the second focuses on Power Systems.
The Training and Simulation Department clubs drone technology and virtual reality for military use and law enforcement. Many of the simulations are used for combat training. Additionally, it also offers security services and weapons simulations for aircraft and missile guidance systems.
FAAC is one of the subsidiaries of Arotech Corporation. It was awarded a contract by the US Marine Corps. FAAC will be responsible for updating the convoy systems and the contract is valued at around USD 29 million.
Headquartered in Ann Arbor, Michigan, this defense and security company has been in existence for more than two and a half decades. Analysts expect revenue to rise by 1.3% to $100M this year and 11.8% to $111.8M in 2019.
Market Cap: $90M
Year-to-Date Return: -3%
Earnings Growth: 127%
4. CAS Medical Systems [CASM]
Medical and Healthcare sectors are seamlessly adopting modern technologies. CAS produces as well as markets products that can be used to monitor a patient's vitals. Its products can be used to track patients without the use of invasive methods.
MAXNIBP is its traditional product to measure blood pressure. The company also offers a product called FORE-SIGHT which is a Tissue Oximeter with sensors.
Analysts expect CAS' revenue to rise by 6.8% to $20M this year.
Market Cap: $63.3M
Year-to-Date Return: 196%
Earnings Growth: 15%
5. Dolphin Entertainment [DLPN]
Here's another content production company — Dolphin Entertainment, Inc. engages in marketing and providing publicity services to major film studios, and many of the independent and digital content providers.
It is, however, flying under investors' radar as the limelight is focused on content giants such as Netflix [NFLX], Disney [DIS]  and others. It recently acquired 42West that expands its revenue stream into the public relations space.
Analysts expect Dolphin's revenue to rise by 4.9% to $23.5 million this year, and 19.4% to $28 million in 2019.
Market Cap: $35.36M
Year-to-Date Return: -30%
Earnings Growth: 82.4%
6. Fura Gems [FURA]
Fura Gems is primarily a natural resource company. It engages in the acquisition and exploration of resource properties. The company was founded in 2006 and headquartered in Toronto, Canada.
This penny stock is currently trading at $0.40. The gemstone mining and marketing company is eyeing a share of 8-10% in the global colored stone market over the next three years. The market is estimated to reach$2B in 2021 which translates into annual revenue between $160M and $200M for Fura Gems.
Fura Gems is looking to expand its footprint in Mozambique and recently acquired nine ruby assets in the country.
Market Cap: $48.4M
Year-to-Date Return: -28%
FAANGs Lose Over $135B Overnight
The stock market was in a sea of red yesterday. The broader markets witnessed yet another correction. Stocks such as Facebook [FB], Apple [AAPL], Amazon [AMZN], Netflix [NFLX] and Google [GOOG], also known as FAANGs led the sell-off yesterday.
FAANGs lost over $135B in market value overnight. Analysts have raised concerns over Apple's iPhone unit shipments. Several of them have cut iPhone shipment estimates and this has driven Apple shares lower.
Apple's market cap has fallen from a high $1.1T to its current value of $882B. During its last earnings call, Apple had also stated that it will no longer provide data for device sales further adding fuel to fire.
Facebook trades at a two-year low
Facebook shares continue to burn investor money. Shares are down 13% this month and 20% since Oct. 2018. Facebook shares have impacted after an investigative report by New York Times accused the former of promoting anti-Semitic conspiracy theories.
Amazon shares fell declined over 5% yesterday. The stock faced the wrath of investors as it missed revenue forecasts last month. Netflix, on the other hand, has slumped over the last few months as there are concerns over the company's international expansion efforts.
Have FAANG's bottomed out?
FAANGs drove the markets for several years and generated spectacular returns for investors. A focus on developing innovative products and services have ensured market leadership for FAANGs.
However, since Oct. 18, these shares have declined significantly. FAANGs have lost a whopping $700B in market cap over the last 50 days. Does this mean that FAANGs have bottomed out and are trading at attractive valuations?
It's too early to tell. We have seen that concerns over iPhone device sales, Facebook controversies, and decelerating growth for Amazon and Netflix have weighed in on stocks. Investors are now paying attention to fundamentals in an uncertain macro environment driven by rising interest rates and the trade wars between China and the United States.
Does this mean that the party is over? Certainly not! These companies are leaders in innovation and are expected to launch products and services that will help them maintain revenue growth in the near future.
Analysts estimates
Analysts though are still bullish on FAANGs. They have a 12-month target price of $233.47 for Apple, implying an upside potential of 26%. Similarly, shares of Facebook, Amazon, Netflix, and Google are trading 50%, 41%, 48%, and 32% respectively below their target price estimates.
3 Ways To Invest From Your Smartphone For Under $5
The numbers say 80% of Millennials don't invest in stocks.
Reason? Half say they don't have money, one-third says it's for "old white men," another third says they don't know how.
In addition to that, there's demographic gap. "The average age of a financial advisor is 55,"Douglas Boneparth, a New York City-based financial planner last year. "There are more financial advisors over the age of 70 than there are under 30."
Despite these beliefs, you don't really need much money, nor experience, to get started. (Just look at our fearless co-founder Odunayo Eweniyi and what she's pulled off here…)
Be that as it may, here are three ways to get started for $5 or less.
1. Stash
What: A micro-investment app (iOS and Android) with over 30 ETFs according to industry, sector and risk tolerance.
How it works: Download the app and choose your investment.
Minimum investment: $5
Cost: Fees range from $1 a month for accounts under $5,000 to 0.25% a year.
"We help people who don't have a lot save money on a weekly basis," CEO and co-founder Brandon Krieg said in one interview. "Stashers look like America, they look like people you meet every day: they are nurses and teachers and Uber and Lyft drivers."
2. Acorns
What: iOS and Android app.
How it works: Download the app and choose one of six index funds. When you buy, say a cup of coffee for $1.75, it rounds up the change to $2 and deposits the difference.
Minimum investment: $5
Cost: Just like Stash, fees range from $1 a month for accounts under $5,000 to 0.25% a year.
"We're not trying to preach austerity to the client, because that's a bummer," CMO Manning Field says. "Some people will say, 'Don't have the cup of coffee.' We'll tell you to have the cup of coffee and invest along the way."
3. Robinhood
What: A commission-free investment app (iOS and Android).
How it works: Download and start buying stocks.
Minimum investment: Whatever stock you want to buy.
Cost: Free.
And by the way, if you want to get a fast start on real estate, here's Forbes' list of nine REITs with yields between 8% and 10%.
Analyst: 'Bitcoin Just Collapsed Like A House Of Cards…'
Oh, how the mighty have fallen.
Ever since their mighty peak back in December, Bitcoin has seen a consistent plunge all year long, briefly dropping under $5k a coin today.
"Bitcoin collapsed like a house of cards on Monday," Lukman Otunuga, research analyst at FXTM, wrote Business Insider in an email.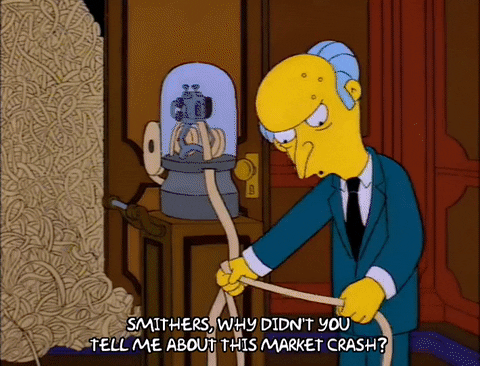 In fact, today's drop continues a filthy week for Bitcoin, which has now dropped to a low not seen since December, right before the wicked explosion in prices that had Bitcoin as high as $20k per coin.
Once that happened, Bitcoin basically went mainstream, with "Blockchain" and "cryptocurrency" becoming words du jour. And once that happened, it basically created a frenzy around cryptos.
Just peep this. It's not even a hockey chart, it's just insanity.
Aaaaaand, here's another showing the raucous trading activity back in December 2017.
All in all, Bitcoin lost 12% of its value in the past week and nearly 20% in the last three months.
For whatever it's worth, it's not just Bitcoin that's taking a beating; other cryptos are getting slammed as well. Both Litecoin ($5.10 per coin) and Ethereum ($156/coin) are down 12%.
So, who else is bullish on crypto?!